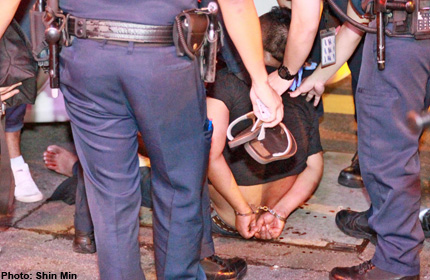 SINGAPORE - Confronted by police officers who asked to check his bag, he refused and bolted.
He ran to a nearby coffee shop, crashing into an elderly man drinking coffee. Both tumbled to the ground.
For about 10 minutes after that, passers-by helped police pin down the man, who was later arrested for suspected drug-related offences.
The drama, at a Lorong 8 Geylang coffee shop, occurred at about 10.45pm on Thursday.
A security guard, 60, who wanted to be known only as Mr Hamid told Shin Min Daily News that he was having coffee when a man suddenly rushed over, hitting the back of his neck in the process.
PINNED DOWN
He said he turned around to see two policemen pinning the man down. Coffee and shattered glass were all over the floor.
The owner of the coffee shop, who wanted to be known only as Mr Chia and is in his 50s, said the suspect kept shouting and fighting to break free.
"The two policemen were on their own. So bystanders came to help hold the man down," he said, adding that the coffee shop was packed with onlookers.
Four police cars later arrived and the man was arrested, he said. Both the suspect and police officers appeared to be injured.
A Singapore Civil Defence Force spokesman said the suspect, who was conscious, was taken to Tan Tock Seng Hospital.
A police spokesman said the man was arrested during a routine patrol, and they are investigating, possibly for voluntarily causing hurt to deter a public servant from carrying out his duty.
TNP understands that illegal drugs were found in the man's bag.

Get The New Paper for more stories.