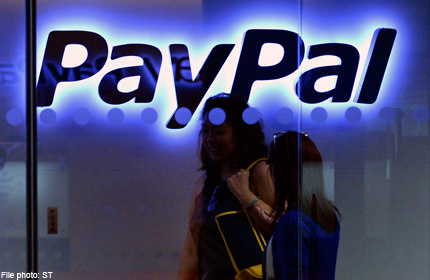 SINGAPORE - Online payment giant PayPal is to put in place new measures to protect retailers here and around the region from fraud.
From Oct 11, its seller protection policy will absorb losses for online merchants who face fraudulent transactions or whose customer claims he did not receive a product. In most of these instances, sellers bear the costs.
But if a case is raised with PayPal's dispute resolution centre and the seller can prove it delivered the item, the company will absorb that cost and reimburse the affected party, said Mr Lawrence Chan, its vice-president of Asia-Pacific merchant services.
The policy will be available to all online businesses here - from blogshops to big retailers - at no extra cost. It is already available in the United States and Europe where PayPal has some 98 million active accounts. This is the first time the protection will be extended to merchants in the Asia-Pacific region where PayPal has about nine million active accounts.
However there are several caveats to the policy. It is only applicable to tangible goods - services or digital goods like software or online game credits will not be eligible.
PayPal will also cut off seller protection if it suspects the online merchant is in cahoots with fraudsters or if it thinks the merchant is not doing enough to protect himself.
Protection for online businesses has become increasingly important amid a rising number of cross-border transactions, which tend to be more susceptible to fraud, said Mr Chan.
PayPal said the volume of transactions between Singapore and China has grown by almost 70 per cent between 2011 and 2012. This is followed by Hong Kong (55 per cent) and the Philippines (35 per cent). Jewellery, clothing and cameras are among the most popular items.
PayPal would not give data on fraud cases it has faced.
While PayPal's move is in the right direction, "security for the businesses goes beyond deterrence against false claims by consumers", said Mr David Siah, country manager of security firm Trend Micro Singapore.
Businesses need to ensure they are adept at responding to "targeted attacks or social engineering tricks", he added.
Mr Russell Wong, who owns an online music speaker export business, said the new policy offers "a kind of insurance to the seller".
But he said he would rather settle issues with a customer privately than face an "ugly" dispute through PayPal.
He added: "If photos from the customer show my goods came damaged, I am willing to bear the loss if it's reasonable."

Get a copy of The Straits Times or go to straitstimes.com for more stories.