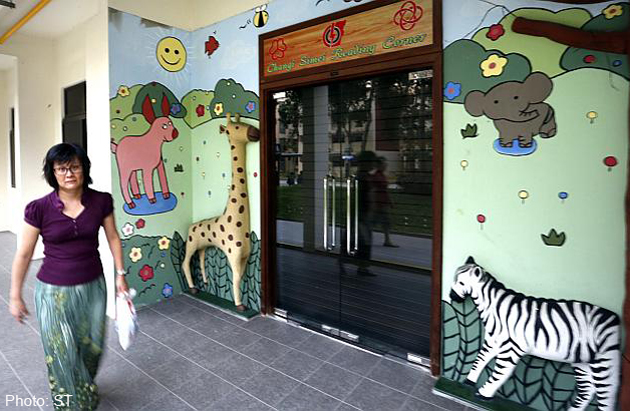 THE location of the PAP Community Foundation's (PCF) first senior care centre in Simei is currently a reading corner for children.
But as the estate matured, residents began asking for eldercare instead of pre-school services.
PCF executive committee chairman Lawrence Wong said yesterday that such changing needs explained why the PAP's charitable arm decided to start senior care centres to better cater to an ageing population.
Work to refurbish the space for the new centre at Block 120, Simei Street 1, will begin by December. The PCF said it will be able to accommodate around 60 residents.
Pre-school centres in other neighbourhoods that have seen a slump in enrolment, as estates age and the demand for eldercare soars, could also be converted to senior care centres, he added.
Remaining pupils will be transferred to a nearby centre.
But Mr Wong, who is also Minister for Culture, Community and Youth, said this development does not mean the PCF will be cutting back on pre-school centres. It is merely adjusting to better address the changing demographics in some estates.
"In fact, we are continuing to open more pre-school centres... it's just that different localities have different demands," he said.
Mr Wong stressed that the PCF will also ensure the elderly poor, who cannot afford the fees, will still be able to use its senior care centres.
"Our assurance, as we do for the pre-school side, is that... everyone who needs the care will be able to benefit, and affordability should not be the concern for the person."
He noted that the PCF was set up as a non-profit organisation and would retain this character. It also had enough scale and critical mass to "operate efficiently".
The PCF said services at the new centres will be heavily subsidised, with needy seniors getting subsidies of up to 80 per cent.
Ayer Rajah resident Difari Abdul, 82, said senior care centres would help lighten the burden of family members who are working.
"But the important thing is, these services must be affordable. Or else we can't even get one foot through the door," he said in Malay.

This article was first published on Sep 29, 2014.
Get a copy of The Straits Times or go to straitstimes.com for more stories.