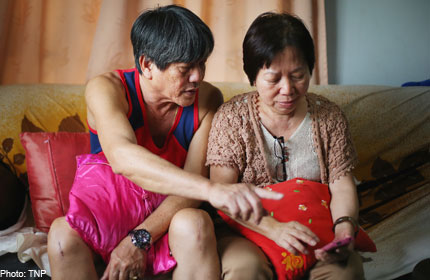 SHOCK
At 6.38am last Friday, Madam Lisa Ng received a text message from her daughter.
"Mother, typhoon is very bad here. Please pray for me. I love you and papa," it read.
Miss Alyssa Chee, 23, a final-year nutrition and dietetics student at Flinders University in Adelaide, Australia, had been in Tacloban, the Philippines, with two course mates, Ms Eileen Heng and Ms Vanessa Chong, both 23, since Oct 21.
They were on a school placement project working with a local non-profit group, Volunteer for the Visayans.
Then Typhoon Haiyan swept into the Philippines last Friday. The super typhoon caused widespread destruction and has reportedly claimed up to 10,000 lives.
Among the worst-hit areas was Tacloban, about 700km south-east of the capital Manila. Telecommunication lines and power supply to the city were cut off.
By the time Madam Ng, 61, woke up and saw the message, it was two hours later. In shock and filled with dread, she tried in vain to reach her daughter on her mobile phone.
"I even called the phone company and asked them to put me through, but they said they couldn't because all the phone lines were destroyed by the typhoon," Madam Ng told The New Paper in Mandarin on Monday. Thus began the family's weekend of fear and anxiety.
FEAR
Madam Ng and her husband, Mr Chee Keong Fei, 63, kept their eyes glued to the news and their computer.
They kept in touch with their daughter's boyfriend, who constantly updated them about the situation in the Philippines.
Mr Chee said his only child used to call home almost every day, but would send text messages if she was too caught up with work.
Initial news reports coming out of the Philippines did not seem that bad.
"At first, they said there were only three dead. On the second day, there were 100. By Sunday, the news said there were 10,000 people dead.
"That was when I realised how serious it was and got very worried," he said.
He and his wife even turned to divine intervention, going to a temple to pray two days in a row.
"You just feel better when you go and pray and have peace of mind knowing the gods are watching over us," he said.
Madam Ng confessed that she had also gone to the Chinese temple at Waterloo Street on her own "to pray for safety".
She said: "We hardly ate and slept over the weekend. We just didn't have the mood."
Most of their time was spent alternating between waiting by the phone and trying to call their daughter.
RElIEF
On Sunday at about 9pm, the couple got their first sign of reassurance - their daughter's boyfriend sent Mr Chee a message, saying that sources in the Philippines had confirmed the girls had been located.
About 12 hours later, there was confirmation from Flinders University that the three had been "found safe and well".
Its acting vice-chancellor, Professor Andrew Parkin, said in a statement: "We have been in regular contact with the families of the three students over the weekend. The university is investigating options to expedite the return of the students to their families in Singapore."
And just after 3pm on Monday, the phone call they had both been waiting for finally came.
Mr Chee was on the phone with this reporter when frantic shouting could be heard in the background.
"Wait, we talk later. My daughter just called back," he said before hanging up.
When TNP visited the Chees in their Yishun flat later, there was a sense of contained excitement. Madam Ng said: "It was a very short phone call. We initially didn't know who was calling from a foreign number.
"When I picked up, the voice on the other end said: 'Mummy, I'm okay. I'm getting on a plane now'. She sounded a bit hoarse and tired but I knew immediately it was my daughter."
A Ministry of Foreign Affairs spokesman said Ms Chee, Ms Heng and Ms Chong were met by Singapore Embassy staff after arriving in Manila on Monday. The three women are arrived in Singapore on Tuesday.
- Additional reporting by Jasmine Lim 

Get The New Paper for more stories.