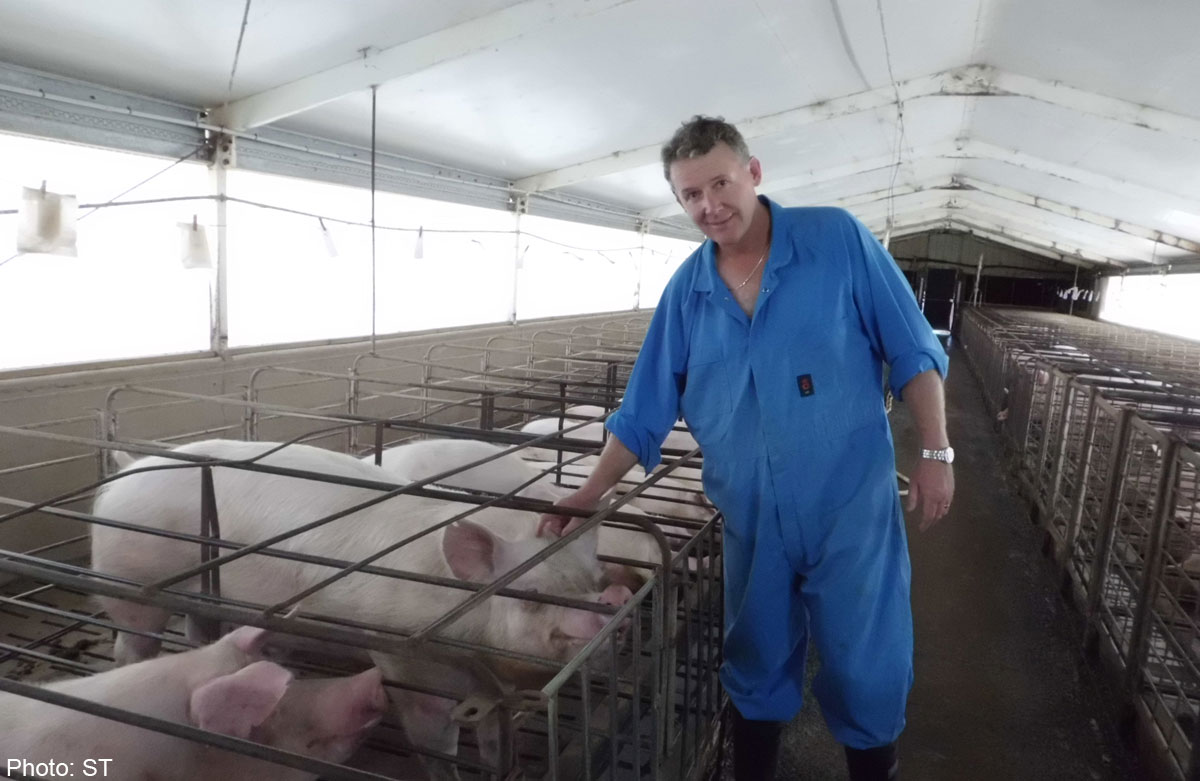 The Jones family may live more than 6,000 km away in Australia but they know about Singaporean tastes.
"They like lean pork, so I send my best pigs to Singapore," said pig farmer Andrew Jones, 47.
The third-generation pig farmer runs four farms - about the combined size of Ang Mo Kio, Bishan and Toa Payoh - near Clifton, just under three hours' drive from Brisbane in Queensland.
His grandfather Keith Jones started pig farming in 1940 and the family business - CEFN - has been shipping pigs and pork to Singapore for over 50 years.
Australian pig farmers exported more than 10,000 tonnes of chilled and frozen pork to the Republic last year.
The Agri-Food and Veterinary Authority told The Straits Times last week that demand for imported frozen and chilled pork has been more or less constant in the past three years, averaging about 80,000 tonnes a year.
Singapore also imports chilled pork from Canada and New Zealand, and frozen pork from Brazil, the Netherlands and the US.
Mr Jones said his family's connection with Singapore started in the 1960s, when they sent live breeding pigs by air to Singaporean pig farmer Alan Koh.
The shipments ground to a halt in the 1980s, when pig farming was phased out and Singapore started importing pork from neighbouring countries.
Imports from Australia restarted in 1999, when the Nipah virus hit Malaysia and Singapore.
"It opened a new market for us and we were grateful for it because pig farming in Australia went through a difficult period in the 1990s with droughts," said Mr Jones.
Today, he ships about a tenth of his produce to Singapore - his only overseas market.
He took The Straits Times on a rare tour of his piggeries last week.
This reporter had to strip naked, shower from head to toe using a chemical soap and don overalls before entering and leaving the farm, just as his 50 staff do.
"It is good practice for hygiene and quarantine, so that nothing unwanted enters or leaves the farm," said Mr Jones.
On the farms, the pigs are kept indoors in army barrack-styled sheds. There is air-conditioning for pregnant sows.
There are 40,000 pigs at various stages of growth. They are kept until about 21 weeks old, before being slaughtered in a government- certified abattoir.
The farms produce about 1,700 pigs for food a week.
About 170 a week are shipped to Singapore on Qantas flights to local food trader KSP Marketing, set up by Mr Koh.
Mr Jones shrugged off the suggestion that pig farmers have a poor image. "People think that farmers are not very smart, right? But it is long, hard and honest work," he said, adding that pig farming has "good profits".
He now runs the business with his father Ian, 72, and brother Marcus, 45.
The brothers have two daughters each, which means the next generation of Jones pig farmers will be women.
"We will see where they take us," said Mr Jones of his daughters and nieces.
His family's 50-year relationship with Mr Koh made him turn away a Singapore firm which wanted to buy his pork directly, saying that he will not go behind the back of his long-time business partner and friend.
"This is about loyalty and trust. It is how we do business," he said, adding: "I am also pig headed; it is a family trait."
This article was published on April 14 in The Straits Times.
Get a copy of The Straits Times or go to straitstimes.com for more stories.