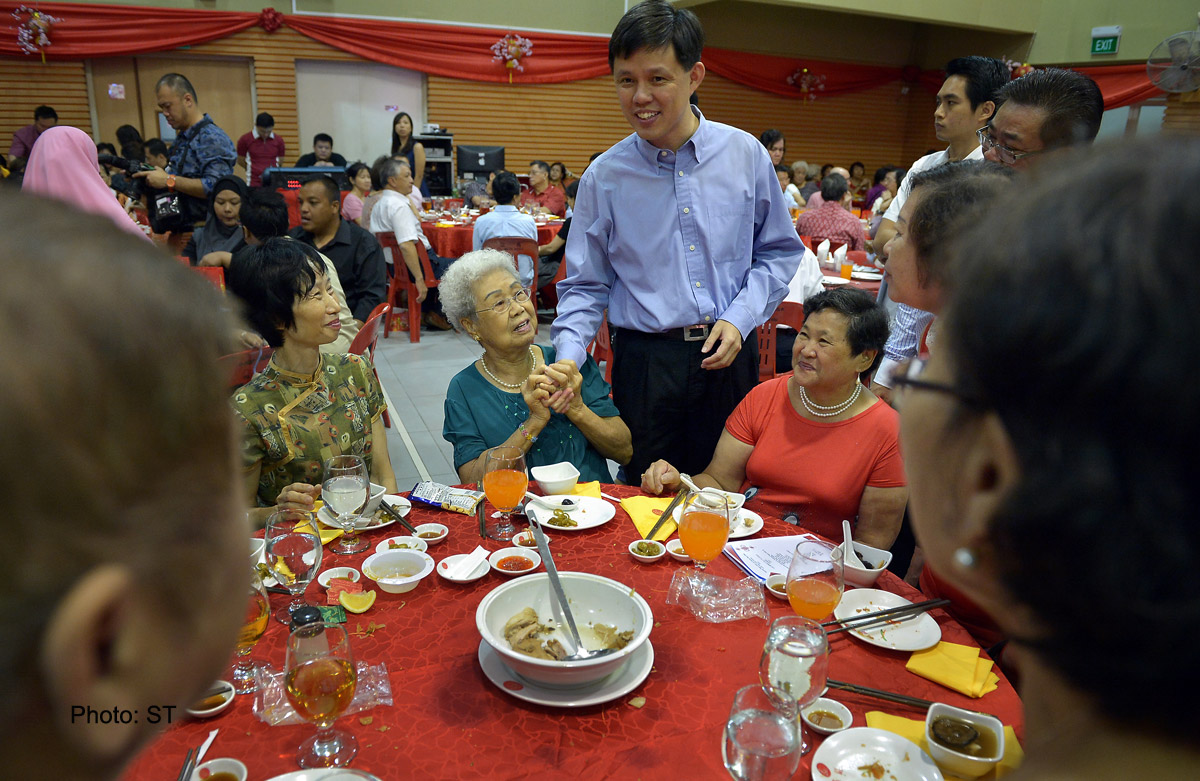 The package - meant to help seniors with health-care costs - will help lift the burden of taking care of the pioneer generation from the younger generation as well, he told some 600 Tanjong Pagar GRC and Radin Mas residents and grassroots leaders at their annual Chinese New Year dinner.

Get the full story from The Straits Times.
PM promises pioneer generation a hongbao
By Robin Chan
AS FAMILIES gather for their reunion dinner, Singapore's elderly can look forward to a "little hongbao" from Prime Minister Lee Hsien Loong.
It will be handed out on Feb 9 when he honours members of the pioneer generation at an Istana celebration of their contributions in Singapore's early years of very hard times, he said in his Chinese New Year message.
As in past years, the importance of family was a central theme of his yearly message to mark the occasion.
But as Singapore nears its 50th birthday next year, the importance of taking care of the pioneer generation was a key feature of his speech this year that also dwelt on the Government's help for young couples starting families and the need for all Singaporeans to stick together as one family: "Families are the foundation of a cohesive, harmonious society. Our families anchor our identity and sense of belonging. They inspire us to reach for the stars and support us when we are down."
Singaporeans are still not having enough babies to replace themselves. The replacement rate is 2.1, but the total fertility rate has fallen from 1.29 in 2012 to 1.19 last year - the lowest since 2010. Chinese Singaporeans fared even worse, managing just 1.06.
Urging people to do better in the Year of the Horse, Mr Lee said he is pinning his hopes on this year's shuang chun or "double spring", as Valentine's Day coincides with chap goh mei, the 15th day of Chinese New Year.
Almost 300 couples have registered to marry on the popular day known for love and romance, "so we are off to a galloping start", he said. "I hope to hear more wedding bells and newborns' cries throughout the year."
For couples looking to start a family, he assured them of government support, with more childcare places and pre-schools.
PM Lee also urged Singaporeans to help unify the larger Singapore family by looking out for the less fortunate, and nurturing ties with people of all colours and creeds. "We live in peace and harmony because we have strived to overcome differences in our ethnic or religious backgrounds, and expand the common space where we all interact comfortably.
"We must continue to make this effort, to protect what we have achieved and build upon it."
Mr Lee's call for peace and harmony comes five days after he met Malay community leaders on the issue of Muslim women wearing the tudung in uniformed services and said that change must be gradual. In his speech, he said minorities must "give and take, and work with other communities to make progress together".
But Chinese Singaporeans, as the majority race, must also be sensitive to the needs of the minorities and give them enough space to practise their cultures and ways of life, he added.
"Let us stick together as one family... Together we can ride into the Year of the Horse with confidence. Together we can create an even better Singapore for ourselves and our loved ones," he said, calling on all to also contribute ideas to celebrate Singapore's 50th birthday next year.
PM Lee wishes all Singaporeans a very Happy Chinese New Year. His full speech can be read online at www.singapolitics.sg
chanckr@sph.com.sg
This article was first published on Jan 30, 2014.
The Prime Minister is expected to reveal more details of the package this Sunday, Feb 9, 2014. 

Get a copy of The Straits Times or go to straitstimes.com for more stories.