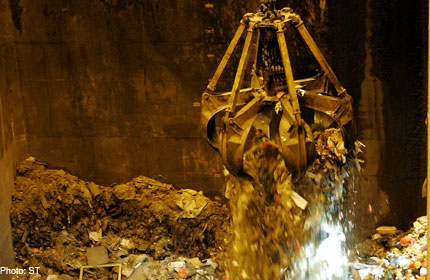 Singapore is planning to build a fifth plant to burn the nation's burgeoning amount of solid waste and turn it into energy.
The National Environment Agency (NEA) called a tender for consultants to manage the project that involves procuring a new incineration plant and overseeing its design and construction.
There are four waste-to-energy plants currently running, the oldest being at Tuas, which started operating in 1986.
The new plant is expected to be completed by 2018. With a capacity of at least 2,400 tonnes per day, it will be the second-largest plant here, after the one at Tuas South.
"The four current waste-to-energy facilities have sufficient capacity to cope with the daily amount of waste generated," an NEA spokesman said. "However, a new waste-to-energy plant will be required to meet the projected increase in demand for waste incineration services."
The amount of waste disposed of - excluding what is recycled - has gone up about 13 per cent from a decade ago, a trend that is set to continue with population and economic growth, she added.
Singapore recycles 60 per cent of its waste, and the rest is burnt or put into landfill. In 2012, it burnt 7,475 tonnes of waste per day, up from 7,277 tonnes a day in 2011. The electricity derived is less than 3 per cent of the island's needs.
Some 57 per cent of non-recycled waste comes from domestic and commercial sources, with the rest from industry.
NEA's tender was called on Aug 21 and will close in October.
Professor Wang Jing-Yuan, who studies solid waste resource management at Nanyang Technological University, said: "The main purpose of waste-to-energy is not to produce energy, it is to reduce waste."
He noted that ideally, plastic waste should be removed before trash is incinerated, to reduce the amount of pollutants - called dioxins - that are released and to reduce the overall amount of rubbish burnt.
The ash left after incineration can be used in construction or reclamation, he said, to save space in the Semakau landfill so it can meet Singapore's needs beyond 2035.
Singapore Environment Council executive director Jose Raymond stressed the need for measures such as making recycling a social norm. He said: "With proper education and awareness about concepts of recycling and reusing, waste generation can be decoupled from population and economic growth."
He pointed out Singapore aims to recycle 70 per cent of its waste by 2030. It also has schemes to reduce waste in the first place, like the Singapore Packaging Agreement, in which companies voluntarily cut the amount of packaging they use.
In Europe, there have been calls for more recycling of materials like plastic. Denmark, a world leader in incineration which burns more than 50 per cent of its household waste for energy, wants to shift to recycling to cut its carbon dioxide emissions.
caiwj@sph.com.sg

Get a copy of The Straits Times or go to straitstimes.com for more stories.