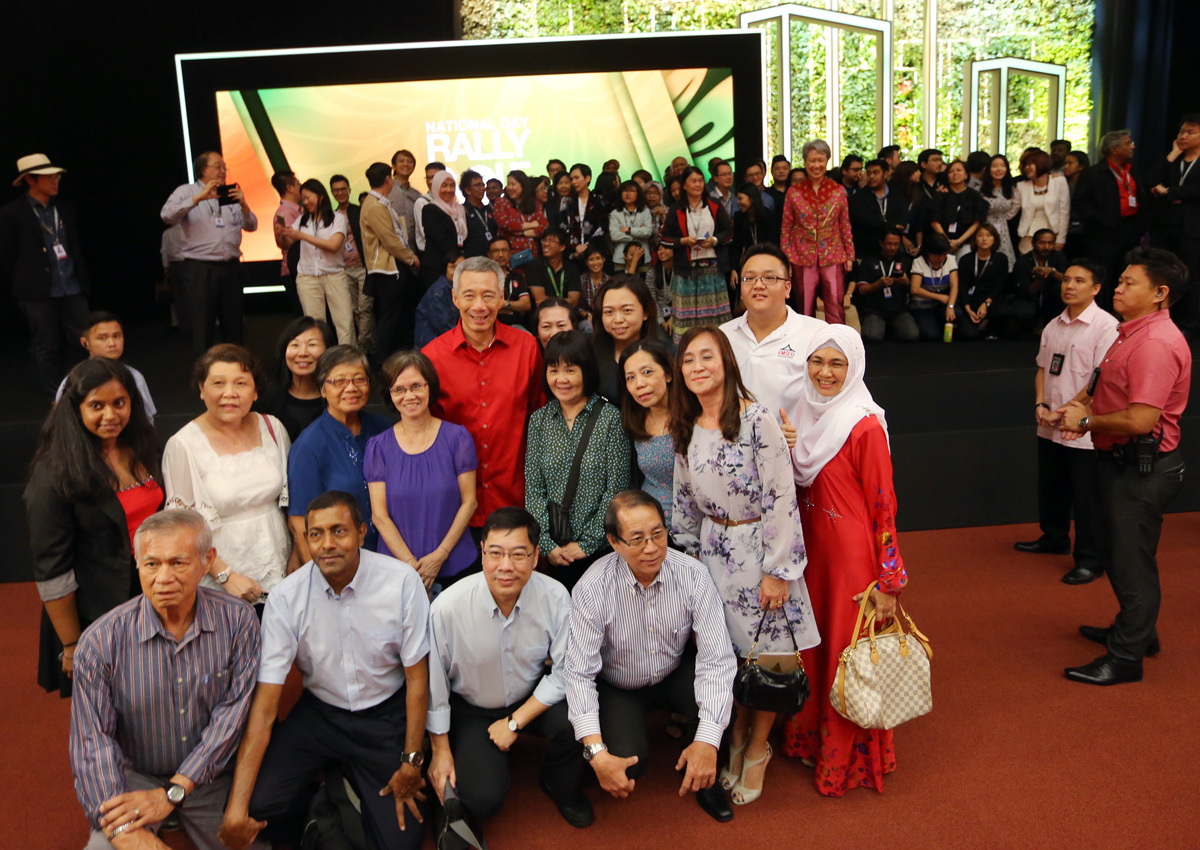 Prime Minister Lee Hsien Loong used his SG50 National Day Rally last night to remind Singaporeans of what it took to make Singapore succeed and what is needed to keep it special for the next 50 years.
He had no video clips or special effects as he paid tribute to the pioneer leaders and citizens who strived from 1965 to defend a suddenly independent Singapore, turn vulnerability into strength and remain united despite challenges.
It has been an exhilarating journey, he declared, adding that three factors helped Singapore get to where it is today: the determination to be a multiracial society; a culture of self-reliance and mutual support; and keeping the faith between the Government and the people.
He said the same elements were needed if Singapore is to celebrate SG100 from a position of strength.
Last night's Rally was held at the Institute of Technical Education's College Central in Ang Mo Kio. As always, Mr Lee spoke first in Malay and Mandarin, but there was a surprise before his speech in English.
Singer Kit Chan appeared on stage to deliver a soulful rendition of Singapore's best-loved National Day song, Home, dedicating it to founding Prime Minister Lee Kuan Yew, who died in March, aged 91.
PM Lee noted that just two weeks earlier, the Padang had reverberated with the strains of the same song, as National Day Parade spectators sang along heartily.
He said the Golden Jubilee parade was much more than a big birthday bash. It celebrated the resolve to make Singapore succeed despite the odds and go from Third World to First.
He noted that policies to foster multiracialism - from making English the working language to ethnic integration in HDB estates - helped encourage communities to come together and were a key factor for Singapore's success.
"Some people may think that racial and religious harmony is not a problem any more and that I am making too much about this, but they would be wrong," he said.
"Race and religion are always sensitive matters, especially for us, and in some ways more complex and difficult to handle than 20 years ago because religiosity has gone up."
Stressing the importance of self-reliance and mutual support, he said the ethos of a "rugged society" had to be ingrained in the young. Especially crucial was the strong bond between the Government and people over the past 50 years.
The Government, PM Lee said, did not shy from hard realities, and people trusted it to have their interests at heart as they supported it.
He cited the tough issue of land acquisition in Singapore's early years when land was needed to build homes, industrial estates and later, the MRT network.
It was tough on landowners who suffered financial loss, and resettled families whose lives were disrupted.
"But if the Government had not done this, we could not have housed our population, we could not have transformed Singapore," he said.
"There were sacrifices, but in the end, it was for the common good and everybody benefited."
New tough issues will come up - such as immigration and the need for foreigners in the workforce - a difficult issue because people have strong views, and every option for dealing with it has a downside.
"Whichever option we choose, it will involve some pain. But I believe that I am doing what Singapore needs and what best safeguards your interest," he said.
"It is my responsibility to make this decision, to make this judgment and then to act on your behalf. And having acted on your behalf, to account to you for the results and for the reasons why I decided the way I did. I owe it to you. You've elected me."
He said as a little red dot, Singapore had to be alive to its external environment.
"South-east Asia is an exciting place to be, but also a rather dangerous place to live," he said. A strong Singapore Armed Forces, successful economy, good diplomats and leaders all help to safeguard the country's interests.
Singapore has to be special, "a shining red dot", he added. "If we are soft and flabby, we are going to be eaten up. We have to be rugged, to have that steel in us. If we are divided, whether along racial lines or class lines, we can't survive."
For Singapore to continue to do well, a strong sense of national identity is also key. "After 50 years, this faith, this sense of togetherness and purpose, is stronger than before," he said, as he cited instances when the Singapore spirit shone.
"Fifty years ago, our challenges seemed insurmountable," Mr Lee added. "Fifty years on, our challenges are still formidable but they are far from insurmountable."
Returning to the Parade at the end of his speech, he recounted how he went down to the Padang to meet the youngest performers.
"They were in high spirits, their faces shone with excitement and hope. I thought to myself: These are the faces of the future of Singapore. 50 years from now, SG100... I hope they will be back at the Padang celebrating again, remembering SG50, congratulating one another on how much they have done, on how far they have come and looking at more young, radiant faces of children and many grandchildren and singing Majulah Singapura."
zakirh@sph.com.sg

This article was first published on Aug 24, 2015.
Get a copy of The Straits Times or go to straitstimes.com for more stories.