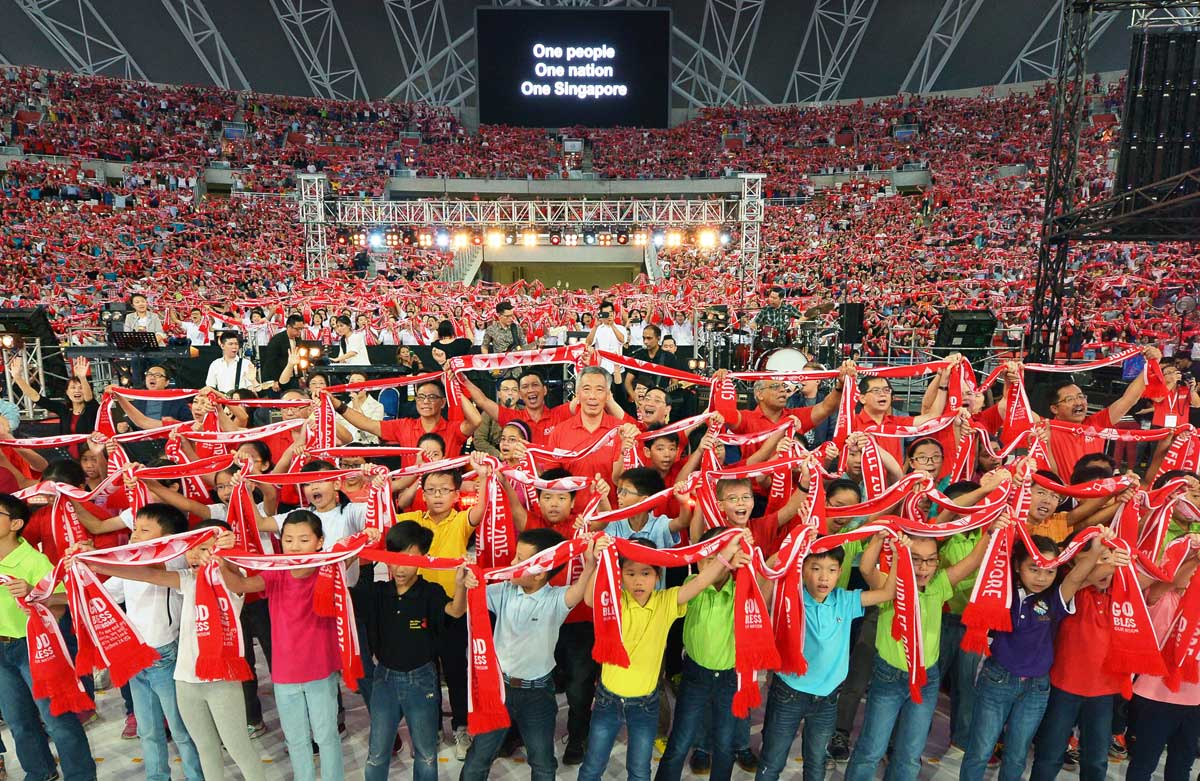 The new Sports Hub was awash in a sea of red yesterday as a record 51,000 Christians from churches across Singapore gathered to mark SG50 and pray for the country.
The Jubilee Day of Prayer is the largest multi-denominational Christian event in Singapore's history, and is part of a series of events celebrating Singapore's 50th year of independence.
Joining them as guest of honour was Prime Minister Lee Hsien Loong, who got a warm welcome from those present as they waved red scarves and cheered his arrival.
In a speech, Mr Lee acknowledged that a jubilee year has special significance for Christians.
He noted that in the Old Testament, a jubilee year was the 50th year at the end of seven sabbatical cycles - seven cycles of seven years each - and a year of great joy and celebration, when people spend time with their families, enjoy the harvest, and freely share what they have, especially with the poor.
Mr Lee urged the congregation to celebrate SG50 with family and friends, give thanks for what Singapore had achieved, and said he was glad the collection from the event's offering will go to those in need.
"This is the spirit of the jubilee: togetherness, thankfulness and generosity that we must nurture and that will see us into the future. A future in which all our communities, including our Protestant community, will have full roles to play," he added.
Mr Lee also paid tribute to the Protestant community's hard work in building up Singapore, citing missionary schools which moulded young people of character.
The Prime Minister added that while he attended a Catholic school, two of his sons went to a Protestant Christian school - Anglo-Chinese School (Independent).
He also praised the community for serving the less privileged in Singapore, regardless of race, language or religion.
And he said that Christians have also played a key role helping Singapore maintain racial and religious harmony.
In particular, Mr Lee thanked church leaders for understanding Singapore's multi-religious context and for guiding their flock to practise their faith with moderation and restraint, while respecting the people and practices of other faiths.
Repeating a point he had made at a thanksgiving mass organised by the Catholic community last Saturday, Mr Lee said that while Singapore was a secular country, many people take their faiths seriously.
"The Government considers this a good thing. It has given us right values, it has given us moral compass, it has not stopped us from coming together as one people."
Today, he will join Muslims in breaking fast at the newly renovated Al-Ansar Mosque in Bedok, as well as attend a concert co-organised by the Taoist Federation and New Creation Church, he added.
This was why singing the song One People, One Nation, One Singapore at the end of yesterday's event was apt, he quipped.
The celebration was co-organised by the National Council of Churches in Singapore (NCCS) and the Evangelical Fellowship of Singapore, and also saw leaders from various churches take turns leading the audience in worship and prayer.
President Tony Tan Keng Yam and his wife, Mrs Mary Tan, and several ministers were also present.
Said Bishop Wee Boon Hup, who is the NCCS' president: "The gathering of Christians from different denominations, churches and organisations in one day at one place as one Christian community underscores the unity of our community and the love we have for Singapore."
charyong@sph.com.sg

This article was first published on July 6, 2015.
Get a copy of The Straits Times or go to straitstimes.com for more stories.