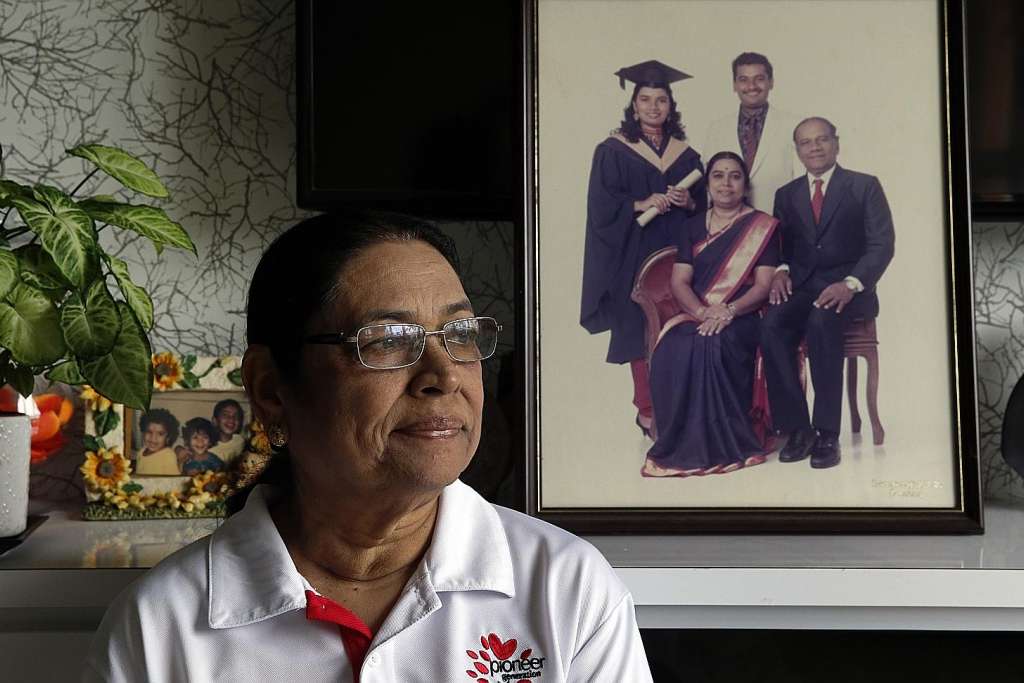 Retired schoolteacher Satyabhama Karunakaran was 48 when she lost her husband to a heart attack.
Ten years later, tragedy struck again. Her daughter, just 34, died of a brain tumour.
But Mrs Satyabhama, still sprightly at 73, has channelled this grief into connecting with other senior citizens grappling with loss.
For two years now, she has gone door to door as a Pioneer Generation Ambassador, explaining government schemes and policies to the elderly, and inspiring them to stay active and positive.
Mrs Satyabhama, along with fellow ambassadors Koh Ting Beow and Azizah Abdul Rahim, were among the everyday heroes Prime Minister Lee Hsien Loong paid tribute to in his New Year message.
"Their sustained, collective efforts help to make a strong and cohesive society," he said yesterday.
Mr Lee also pointed to the "spirit and resilience" found in ordinary Singaporeans that he said will help the Republic weather the uncertain times ahead.
In a Facebook post yesterday, he wrote: "Our people are resilient and united, and many are doing their part to help others and contribute back to society."
Mrs Satyabhama, who lives in Anchorvale, some blocks away from her remaining child, said a crucial part of her volunteer work is lending senior citizens some strength and a listening ear.
"Many of these elderly are living through periods of great loss. Some are losing their spouses or even children," she said. "I know what they're going through. I can tell them, you're in so much pain but you will survive. Sometimes, that's all they want: some hope."
Mr Lee also highlighted start-up founder Muhd Shamir, for launching a co-working space for other start-ups and helping to organise an SG50 initiative called Kita X which encouraged young Singaporeans to dream up ideas for the nation's next 50 years.
Mr Shamir, 34, launched logistics management software VersaFleet four years ago and is now expanding his company to countries such as Malaysia and South Korea.
The former molecular biology researcher is optimistic about the local entrepreneurship scene.
"It's quite fortunate that Singapore has been positioning itself as a start-up hub.
"And in these times with more entrepreneurs, there is a whole community that can support them, nurture them and prop each other up," he said.
Ms Adelene Teck, 43, was cited by Mr Lee as an example of Singaporeans actively pursuing lifelong learning. The mother of a 10-year-old girl chose to go back to school after more than two decades as an occupational therapist.
The diploma holder enrolled in the Singapore Institute of Technology, where she now learns alongside classmates 20 years her junior to get a degree in occupational therapy.
She said: "Over the past 20 years, the world has transformed so much in terms of technology, knowledge and culture, so I felt a strong need to return to full-time, cutting-edge studies."
Mr Lee also lauded Singapore's sporting heroes - swimmer Joseph Schooling and Paralympians Yip Pin Xiu and Theresa Goh - who helped the country reach new heights in the global sporting arena last year.
Such triumphs, he said, were the result of years of dedication, sacrifice and hard work: "They dared to dream, and were determined to make their dreams come true."
Community gardener Lalithama Nair, 55, dreams of future generations of Singaporeans doing their part to protect the environment.
She was hailed as an "everyday hero" by Mr Lee, for conducting free programmes for schoolchildren to learn gardening.
She has been running the lessons for the past eight years, for some 100 children each year.
"We cannot wait for something to happen, we have to make the change," said Madam Lalithama.
"People care more about the environment now. The future is bright."

This article was first published on Jan 01, 2017.
Get a copy of The Straits Times or go to straitstimes.com for more stories.