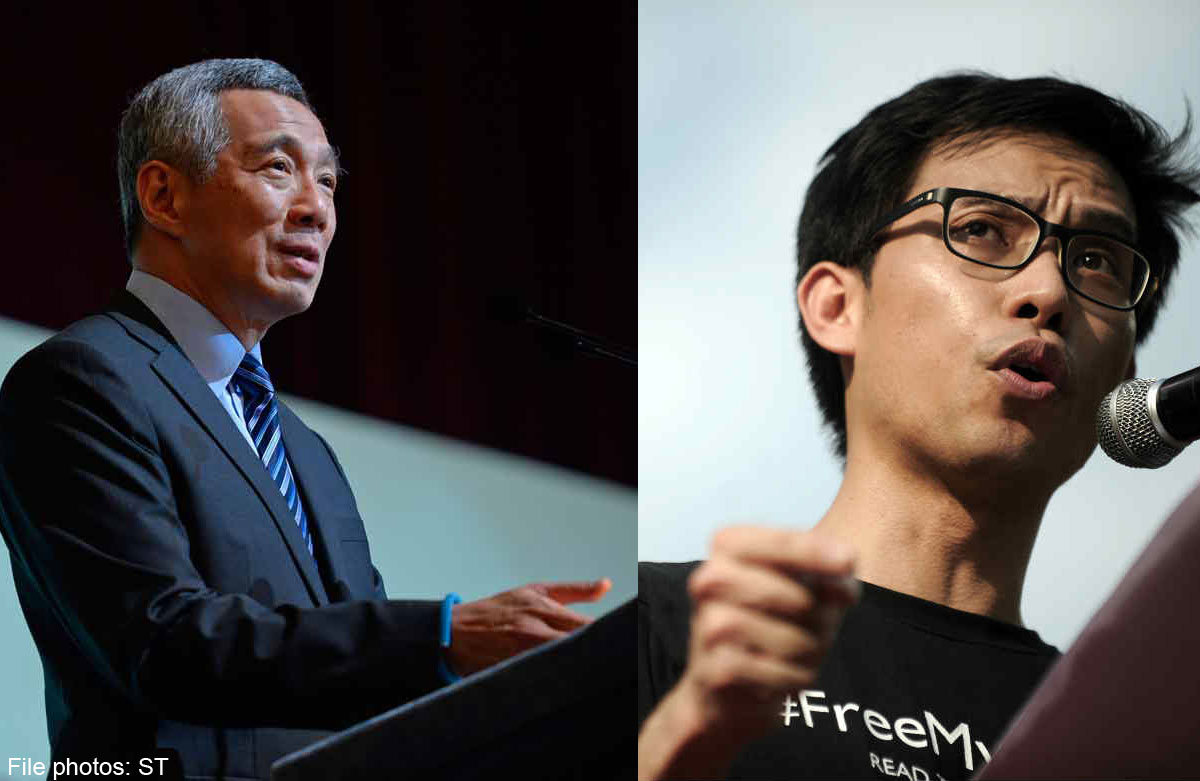 Prime Minister Lee Hsien Loong said the arguments the 33-year-old made are "inadmissible, irrelevant, and an abuse of the process of the court", adding that they were designed to advance Mr Ngerng's political agenda.

Get the full story from The Straits Times.
Blogger suit: Hearing on summary judgment plea in Sept
By: Nur Asyiqin Mohamad Salleh
The hearing to decide if Prime Minister Lee Hsien Loong should be granted summary judgment in his defamation suit against blogger Roy Ngerng has been set for Sept 18 before a High Court judge.
It is to decide if Mr Lee should be awarded damages without the need for a full-blown trial.
The full-day hearing will be presided over by a High Court judge, rather than a registrar as is normally the case, Mr Ngerng's lawyer M. Ravi told reporters after yesterday's pre-trial conference. This, said Mr Ravi, is because "both halves have indicated they will appeal" if the court rules against them.
Mr Ngerng, 33, is being sued for a May 15 blog post alleging that PM Lee "criminally misappropriated" Central Provident Fund (CPF) savings.
A timeline was also laid out during the pre-trial conference. Mr Ngerng's affidavit in reply to the request for summary judgment must be filed by Aug 1. If Mr Lee has a reply, he must submit it by Aug 22. Both sides then file and exchange their arguments on Sept 4, and then on Sept 11, exchange their replies.
Mr Lee applied to the High Court for summary judgment last Thursday.
Yesterday, Mr Ngerng posted on his blog the 28-page affidavit Mr Lee had submitted then to support his application for summary judgment.
"The Defendant has defamed me and I have been advised by my solicitors and verily believe that there is no defence to my claim," wrote Mr Lee.
The only issue that remains, he said, is damages.
In response to media queries, Mr Lee's press secretary Chang Li Lin said yesterday that Mr Ngerng had admitted to falsely defaming the Prime Minister. As the legal process has commenced, the courts will decide on the matter, she said.
Mr Ravi had last week told the media that he would be making "submissions to vigorously resist (Mr Lee's) application for summary judgment".
The Singapore Mediation Centre has, as a standard procedure, sent a letter to both parties inviting them to resolve the matter amicably.
Mr Ravi said yesterday: "I don't think either of us is interested."
Mr Ngerng, who was waiting outside the chambers in the Supreme Court yesterday, said: "I will continue writing about CPF in the meantime, and (Mr Ravi and I) will fight against summary judgment, to have a full-blown trial."
He is now working part-time at his father's carrot cake stall in Ang Mo Kio. Last month, he was fired from his job as patient coordinator at Tan Tock Seng Hospital.
asyiqins@sph.com.sg

This article was first published on July 18, 2014.
Get a copy of The Straits Times or go to straitstimes.com for more stories.