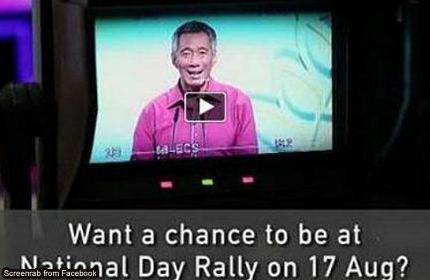 SINGAPORE - In a first, Prime Minister Lee Hsien Loong has reached out to his social media followers, and invited them to let him know if they are keen on attending this year's National Day Rally, which will take place on Sunday Aug 17. 

Get the full story from The Straits Times.
See PM Lee's full Facebook post here:
The National Day Rally (not to be confused with the National Day Message and National Day Parade :) ) will be held on 17 August. I will be talking about the challenges we face, how we plan to address them, and our vision for Singapore's future.
Each year, I invite leaders and representatives of different groups to the Rally. This year, I have decided to reserve some seats for you - the ones following me on social media.
If you are interested in coming, find out more from this video. Hope to hear from you soon! - LHL
In a video posted together with his Facebook message, details were also given on how to join Mr Lee at his National Day Rally speech. Interested participants are invited to give their reasons why they would like to be invited, then hashtag it with #InviteMeToNDR, before emailing the link and their IC number to ndr@pmo.gov.sg
Mr Lee's post has garnered 139 shares on Facebook as at 5pm on Saturday evening.