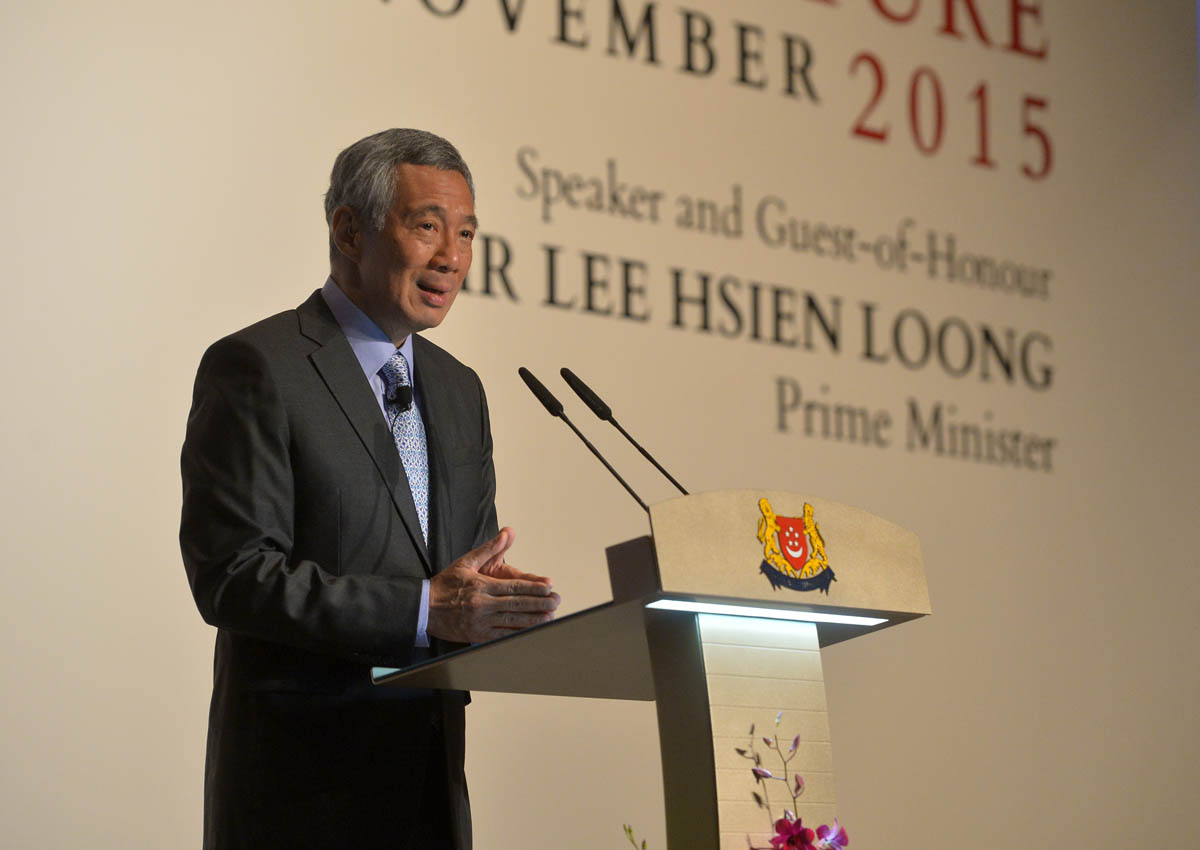 Small as Singapore is, it has refused to accept being powerless on the international stage as its fate, said Prime Minister Lee Hsien Loong yesterday.
Delivering the annual S. Rajaratnam Lecture organised by the Foreign Affairs Ministry's Diplomatic Academy, he said the country is determined to be a master of its own destiny in a world where power often determines which countries prevail and set the agenda.
"Our foreign policy is a balance between realism and idealism," he told an audience of diplomats, foreign service officers and students at the Fairmont hotel.
"We know we have to take the world as it is and not as we would wish it to be. But we believe that we can and must defend ourselves and advance our interests."
Singapore's fundamental interests are to have peace in the world, stability and security in the region, a network of friends and allies, and to ultimately preserve its sovereignty, he said.
It has advanced these interests on the global stage through four strategic ways in the past 50 years, and should continue to do so, he added as he elaborated on them.
First, Singapore must be an active and constructive international player that adds value.
Its officials and diplomats have played active deal-making roles to forge international consensus on issues such as climate change and maritime law in the past.
Singapore has also made common cause with other small states in forming groups to influence the global agenda.
Second, Singapore must sustain good relations with its neighbours, namely in South-east Asia, he said.
It works with its partners to make ASEAN an effective and credible group, and also aims to be an honest and fair broker in disputes such as the one over South China Sea territory.
Third, Singapore must continue to succeed as a country if it wants to remain relevant globally.
"A failed state cannot have an effective foreign policy," Mr Lee said. "The diplomats may be brilliant... but if the country is in a mess, nobody will take them seriously."
Singapore's prosperity and harmony is why other countries want to do business with it and learn from its expertise.
A strong defence force is also a vital layer to protect Singapore when all else fails.
Finally, Singaporeans must remain united across political, racial and religious divides.
The opposition must understand Singapore's fundamental interests in the world and not "seek to undermine them to court foreign support or to gain political points", Mr Lee said.
Singapore also maintains a crucial distinction between race and nationality, a distinction not always understood by other countries, he noted.
While many Singaporeans are of Chinese descent, Singapore is not a Chinese society; while five of Singapore's former foreign ministers have been of Indian ethnic origin, they have taken a Singaporean perspective and represented Singapore's interests.
"In the end, both our external influence and our domestic unity and success come down to us as individual citizens," he said. "We must be determined that we want to be Singaporean, to stand up in the world, and to be a shining red dot."

This article was first published on Nov 28, 2015.
Get a copy of The Straits Times or go to straitstimes.com for more stories.