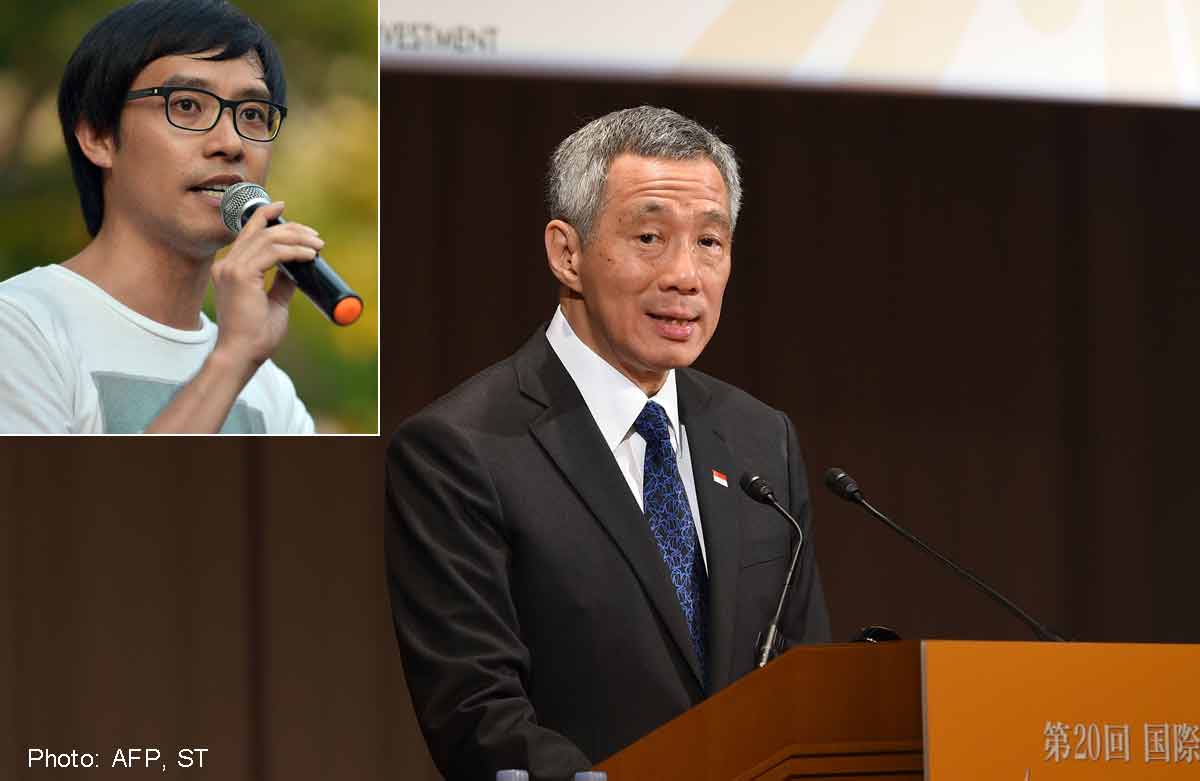 Prime Minister Lee Hsien Loong has responded to blogger Roy Ngerng's request for more details to support Mr Lee's claim for aggravated damages.
The answers, given to the 33-year-old on Wednesday, were released to the media yesterday.
Mr Ngerng, who is being sued for defamation after alleging Mr Lee had criminally misappropriated Central Provident Fund (CPF) savings, had asked for more information last week on some points in Mr Lee's statement of claim.
In the May 29 statement of claim, Mr Lee's lawyer, Senior Counsel Davinder Singh, listed nine reasons entitling the Prime Minister to aggravated damages. One of the four requests concerned malice on Mr Ngerng's part. Mr Singh responded that Mr Ngerng had published the allegation against Mr Lee in his May 15 blogpost "not caring whether they were true or false".
And although Mr Ngerng had apologised to Mr Lee last month, admitting the libel was "false and completely without foundation", and that there was no truth in the criminal misappropriation allegation, he continued to allege the libels were true and continued to republish them, intending to injure Mr Lee and to wound his reputation, said Mr Singh.
Another request centred on Mr Singh's description of Mr Ngerng's "calculated and cynical conduct to use the occasion of his libels to promote himself and cause further distress and injury" to Mr Lee. Replying, Mr Singh said it had always been Mr Ngerng's intention to "opportunistically use" Mr Lee's demands to raise his own public profile, garner support and sympathy, and renew his attack on Mr Lee. In a May 24 video, Mr Ngerng said he was "right" to make the allegation and did not regret it, said Mr Singh. A blogpost on the same day said his apology was for a mere "perceived suggestion" of misappropriation.
He had also republished the "false and malicious" comparison between City Harvest Church leaders prosecuted for allegedly misusing church funds and what Mr Lee had allegedly done to CPF funds, said Mr Singh.
Mr Ngerng was asked to remove the video and blogpost, and two other blogposts from 2012 and 2013. He agreed, but instead of removing the video, made it private so it could still be seen by "a select group of people". On May 26, he sent e-mails to members of the media, republishing these posts and video.
Mr Singh said Mr Ngerng's lawyer, Mr M. Ravi, had in a May 28 letter "falsely claimed" Mr Lee was seeking to prevent Mr Ngerng from expressing his views on the CPF, or exercising his constitutional rights.
This "disingenuous suggestion" was made in a letter Mr Ngerng intended to make public "to bolster his standing and in aid of his continuing public campaign" against Mr Lee, he said, and was uploaded onto his blog the same day.
Two other requests were already covered in Mr Singh's earlier letters on May 26, 27 and 29.
Yesterday, Mr Ravi filed in court amended defence papers saying that under the Constitution, Mr Lee has no cause of action against Mr Ngerng. The pre-trial conference is set for next Friday.
asyiqins@sph.com.sg

This article was first published on June 28, 2014.
Get a copy of The Straits Times or go to straitstimes.com for more stories.