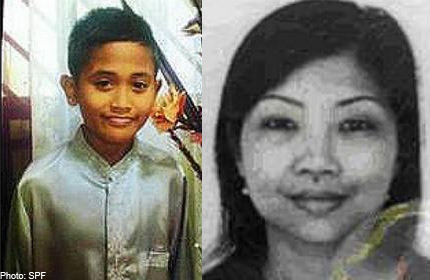 Update at 6.15pm: Police said in a statement that Wong Meu Ching has been found.
SINGAPORE - Police are appealing for information on the whereabouts of a 12-year-old boy and 48-year-old woman in two separate cases.
In the first case, Muhammad Suhaizal Bin Suhaimi went missing after he was last seen in the vicinity of Blk 102 Woodlands St 13.
He was last seen at about 6.30am on September 6.
He is described to be 1.45m tall, with black hair and a tanned complexion. He was last seen wearing a light brown shirt and dark brown pants. He was carrying a school bag.
In the second case, Wong Meu Ching was last seen in the vicinity of Blk 298C Compassvale Street at about 3am on September 21.
She is described to be about 1.62m tall, of slim build, with a fair complexion.
She has short black hair and was last seen wearing a red polo t-shirt and long black pants.
Anyone with information on the two individuals, may call the police hotline on 1800- 255-0000. Information can also be submitted online at https://app.spf.gov.sg/CrimeStopper/CrimeStopper.aspx. The police said that all information will be kept strictly confidential.
yamadak@sph.com.sg