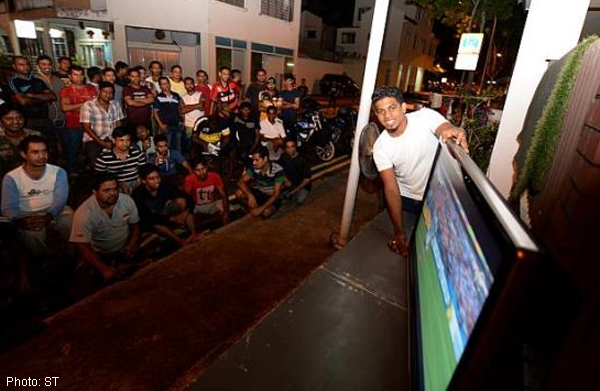 Since the World Cup kicked off two weeks ago, a small crowd had been gathering outside an empty terrace house in Sing Avenue near Little India every night to watch the matches.
What started with seven people grew to a crowd of about 70 yesterday morning, when the police, who were on regular patrol, advised it to disperse.
"We cooperated and brought the television back into the house. The police were very nice about it," said Mr Rooban Kanth, 26.
Mr Rooban, who recently graduated from university, had been screening the World Cup matches at midnight outside the empty house next door. "It's much more exciting when you watch the matches with a crowd," he said.
The free screenings quickly became a hit in the quiet residential estate. Migrant workers living in rental apartments nearby, who formed the bulk of the audience, would walk over before game time. Some would have their own stools and snacks.
Said Mr Taslim Miya, 30, a construction worker from Bangladesh: "I'm really happy I get to watch the matches so I can support Argentina."
Ten-year-old Phang Chun Ean, a Primary 4 pupil from St Andrew's Junior School, was happy too, as he would have had to watch the games on his computer.
The police said yesterday the officers had come across the group and advised them to disperse out of safety concerns.
However, Mr Rooban's neighbours said the crowd had been peaceful and they supported his desire to share the games.
Retiree Michael Aw, 65, who lives in an apartment block opposite, said he barely heard any noise over the past two weeks.
"I slept soundly through the screenings," he said.
A spokesman for SingTel, the only operator providing World Cup matches, said: "It warmed our hearts to see our customer generously bringing the World Cup spirit to the foreign workers in the area. After all, he was not making a profit from it."
The company suggested viewers now go to the nearest community centre showing the matches, Pek Kio in Gloucester Road, two streets away from Sing Avenue.
SingTel charges a one-time fee for the games, except for new or renewing Barclays Premier League subscribers.
Mr Rooban, who lives with his family of six, said: "I may screen the matches later into the World Cup but keep it more low-key."
awcw@sph.com.sg

This article was first published on June 27, 2014.
Get a copy of The Straits Times or go to straitstimes.com for more stories.