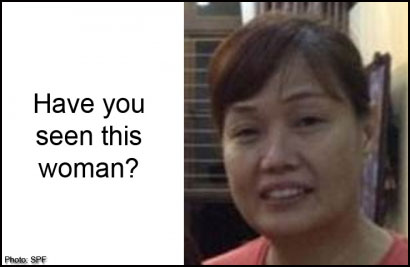 SINGAPORE - Police are appealing for information on the whereabouts of 48-year-old Sim Lai Ying.
Madam Sim was last seen at her home at Block 12 Marsiling Lane on April 28 at about 7am, the police said in a statement.
Madam Sim is described to be 165cm tall, of medium build with fair complexion and brown hair.
Anyone with information about Madam Sim's whereabouts is requested to call the police hotline at 1800-255-0000, or to submit the information online at www.spf.gov.sg/CrimeStopper.
sinsh@sph.com.sg