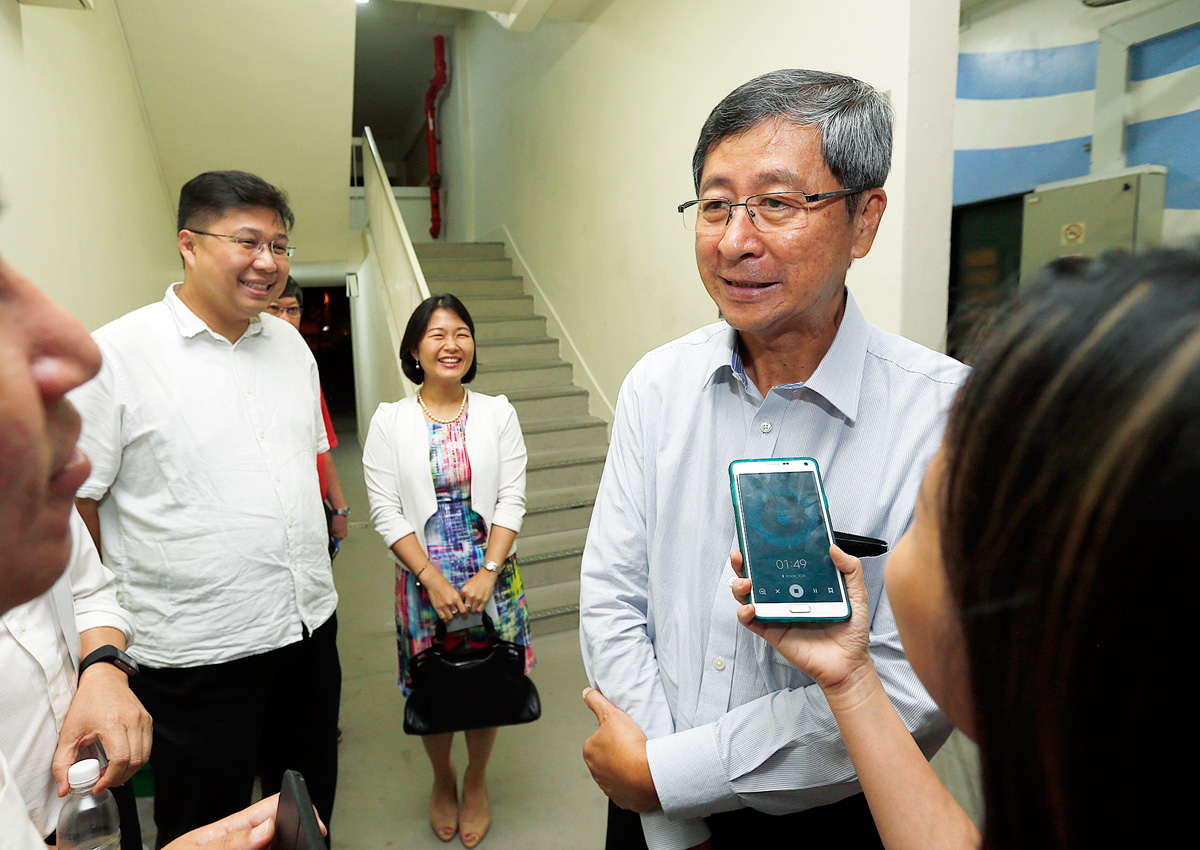 Will he or won't he?
The intriguing prospect of former Cabinet minister Lim Boon Heng emerging as a People's Action Party (PAP) candidate for Aljunied GRC has been given an airing.
The talk is not without merit.
PAP activists in Aljunied have been asking their party for heavyweight candidates to send a strong signal that it is serious about wresting the group representation constituency back from the Workers' Party (WP), which won with 54.72 per cent of the vote in 2011.
Mr Lim, 67, who retired from politics in 2011 after 31 years as an MP, would fit the bill as a heavyweight - he is a former minister, labour chief and chairman of the PAP.
He is currently chairman of investment firm Temasek, which could also add to the PAP's strategy of attacking the WP on its management of the town council's finances.
What's fuelling the rumours and keeping tongues wagging is that Mr Lim himself has remained coy, refusing to deny that he might be a candidate again.
Asked on Tuesday if he could be on the PAP slate for Aljunied GRC, he said: "I've been asked that question by many people, including residents. And I say, you will know on Nomination Day."
According to party sources, his role in the overall PAP strategy for WP in Aljunied is twofold.
One is to play mentor to a relatively inexperienced team of candidates, advising them on what to say, how to react when unexpected situations arise and how to stay cool. The other is simply to keep the WP guessing who the PAP will actually field.
When WP chairman and Aljunied MP Sylvia Lim posted on Instagram a photo of herself eating orh luak (oyster omelette) at Fengshan, some in the PAP believed she was signalling her exit from the GRC to contest the single seat.
The WP has since declared publicly that its MPs - the five in Aljunied GRC as well as those in the Hougang and Punggol East SMCs - would be staying put to defend their seats.
Explaining the worry in the PAP camp over the possibility that Ms Lim might move out, a senior party member said: "If we send only rookies, the WP might be tempted to send one of its big guns out to East Coast GRC or Fengshan. Never say never until the names are on the nomination papers."
So the PAP's strategy of not naming its candidates for Aljunied GRC, Fengshan and Punggol East appears aimed at keeping the WP on the defensive.
And what about the buzz over party veteran Mr Lim? PAP sources say it is unlikely that he will contest, but the very idea that he might is enough to make the WP hesitate on its next moves.
Of course, much depends on the WP's assessment of how strong its support in Aljunied GRC is. Ultimately, that will shape any decision to move someone like Ms Lim, party leader Low Thia Khiang or lawyer Chen Show Mao out of the GRC to contest elsewhere.
In hoping to expand its presence in Parliament, the WP is no doubt eyeing East Coast GRC where it lost narrowly in 2011. Sending a big gun like Mr Low there might swing it, but can the WP afford the risk?
Some observers note that the party's declaration that its incumbents will stay put to defend their seats appears to suggest that its ground is shaky, perhaps because of the heavy fire it has come under over its management of town council finances.
So it looks like party strategists in both the PAP and WP have plenty to mull over in the days left before Nomination Day.
But back to the PAP's possible moves as it considers ways to retake Aljunied GRC.
There are two more chess pieces on the board that have not been moved yet - veteran MPs Charles Chong and Yeo Guat Kwang.
Mr Chong, 62, has been an MP since 1988, and has represented Joo Chiat since 2011. He has been holding Meet-the-People Sessions at Punggol East, and is likely to announce his candidacy there in the next few days.
Mr Yeo, 54, has been moved out of Ang Mo Kio GRC. An MP since 1997, he is likely to announce that he will lead the PAP team in Aljunied GRC in what could be his last hurrah.
His four team members are expected to be picked from the PAP's current Aljunied branch chairmen: Mr Victor Lye, 52, in Bedok Reservoir-Punggol; Mr K. Muralidharan Pillai, 47, in Paya Lebar; Ms Chan Hui Yuh, 38, in Serangoon; Mr Chua Eng Leong, 44, in Eunos; and Mr Shamsul Kamar, 43, in Kaki Bukit.
If the WP sticks with the status quo and with its stated plan of defending all its seats, then the PAP will likely field Mr Chong in Punggol East and Mr Yeo in Aljunied.
But what if the WP does the unexpected and sends one of its big guns in Aljunied, say Mr Chen, to contest in Fengshan?
Then the possibilities start to multiply.
Mr Chong might be moved to shore up the PAP's Aljunied team. He is a seasoned campaigner of six elections and has fought tough battles before.
In 1991, he was part of a four-member team that faced a WP team, which included former Barisan Sosialis member Lee Siew Choh, in Eunos GRC, parts of which are now in Aljunied. The PAP won that contest, but only just: It took the ward with 52.38 per cent of votes cast.
In the 2011 election, Mr Chong faced the WP's Mr Yee Jenn Jong in Joo Chiat and won by a sliver of just 388 votes.
His experience in close fights could prove valuable to the PAP's Aljunied team of mostly first-time candidates.
But wait, there might be more.
An even more radical idea going around in PAP circles is to bring back Ang Mo Kio GRC MP Inderjit Singh for one last fight.
Mr Singh, 55, who announced his retirement from politics after 18 years, has a track record as a plain-speaking MP in Parliament. He has spoken up for small firms, criticised government policies and attacked policymakers for not paying attention to the regular Singaporean on the street.
Having him on the PAP's Aljunied team could attract votes and weaken the WP's argument that voters need strong opposition voices to check the Government.
An unlikely scenario? Perhaps, but catching your opponent off- guard has been known to pay political dividends.
As PAP organising secretary Ng Eng Hen said: "There will always be last-minute changes because all elections are like that."
We will know for sure come Nomination Day.
aaronl@sph.com.sg

This article was first published on August 27, 2015.
Get a copy of The Straits Times or go to straitstimes.com for more stories.