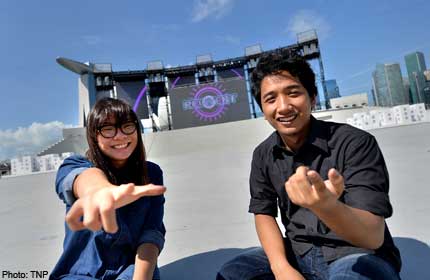 SINGAPORE - Parkour, an extreme sport, was a big part of his life when he was in secondary school.
Said Nanyang Polytechnic student Mohammad Nashrul Khairy, 19: "I enjoyed the challenge of preparing for some of the big stunts. It felt scary but I enjoyed the thrill when I succeeded."
Parkour practitioners, known as traceurs, move through their environment, including urban structures, by vaulting, rolling, running, climbing and jumping. While these stunts are often breathtaking, they may also be dangerous. Mr Nashrul broke his arm at 15 and gave up the sport a year later when he was taking his O levels.
Little did he know then that he would encounter the sport again several years later when he became involved in this year's National Day Parade to be held at The Float @ Marina Bay.
Extreme
The final year diploma in motion graphics student and course-mate Shirlene Loo, 19, were tasked to lead a group of 16 students to come up with a three-minute animation sequence to accompany a segment of the parade, called Reinvent, which features parkour among other extreme sports.
Mr Nashrul was surprised when he found that it was part of this year's parade, as he thought the sport was frowned upon.
He said: "I was surprised as I thought it was an underground movement, that it was not encouraged. I'm glad that we have become more open-minded about the sport."
The animation, which is accompanied by a futuristic, techno soundtrack, features BMX bicycles and skateboards in a science fiction-like landscape, winding up ramps and flying across buildings.
Despite the hard work involved in designing the animation, Mr Nashrul is honoured to be part of the parade.
He said: "At least once a week, we would have to stay overnight in school as just rendering the video can take several hours.
"But I'm proud to do my part for Singapore, and the experience has been amazing."
The students spent three months working on the clip, from brainstorming concepts to putting on the final touches.
Recounting a special moment while producing the clip, Miss Loo said: "We would go to the skatepark and mount cameras on our friends who skateboard. This way, we could capture their movements.
"Some of the skateboarders stared at us, wondering what we were doing but luckily we had our friends to explain to them."
Both Mr Nashrul and Miss Loo are looking forward to watching the parade with their families on television on National Day.
He said: "I'm looking forward to showing my parents what we have been doing all these months."
The animation which the students have done is just one of many multimedia elements at this year's parade.
The main stage also turns into a giant projection screen measuring 75m by 30m. This is the largest in the parade's history.
The size also allows the stage to turn into sports arenas such as a basketball court and football field during a showcase of local athletes.
While Mr Nashrul is happy to be part of the multimedia team, he also wishes that he still did parkour.
He said: "If I were still doing parkour, maybe I would have a chance to do it during the parade!"

Get The New Paper for more stories.