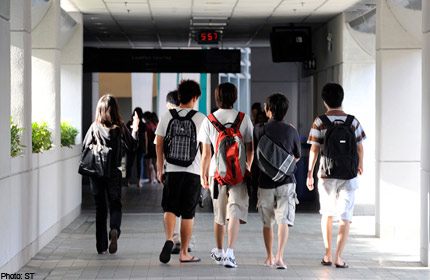 Polytechnic students proposed solutions to some of South-east Asia's biggest problems at the conclusion of the three-day Youth Model ASEAN Conference on Monday.
More than 160 participants from five polytechnics debated issues ranging from poverty to human trafficking before making presentations at the closing ceremony at Singapore Polytechnic.
To tackle poverty, students had to think of how to provide outlets for rural craftsmen in South-east Asia. One proposed solution was to have a concept store in every ASEAN member country to sell their products.
"In this concept store, people will also get to learn about the entire process of what went into producing the craft," said Singapore Polytechnic student Lee Shu Hooi, 18, who chaired the committee on social issues.
Guest of honour, Senior Minister of State for Law and Education Indranee Rajah, told students there would be "no ASEAN without us caring for a collective good".
Another topic was how ASEAN countries could encourage start- ups and promote entrepreneurship among the young.
Resolutions included building more schools and producing a reality television programme aired on YouTube for youngsters to showcase their business ideas.
Nanyang Polytechnic student Jesse Lee, 20, who represented Laos on the economic committee, recalled how reaching a consensus on the proposed resolution was not easy.
He said: "There were about 30 of us on the committee and we all had different ideas on what should be done. It was challenging having to convince the others to agree on a solution."
kcarolyn@sph.com.sg

Get a copy of The Straits Times or go to straitstimes.com for more stories.