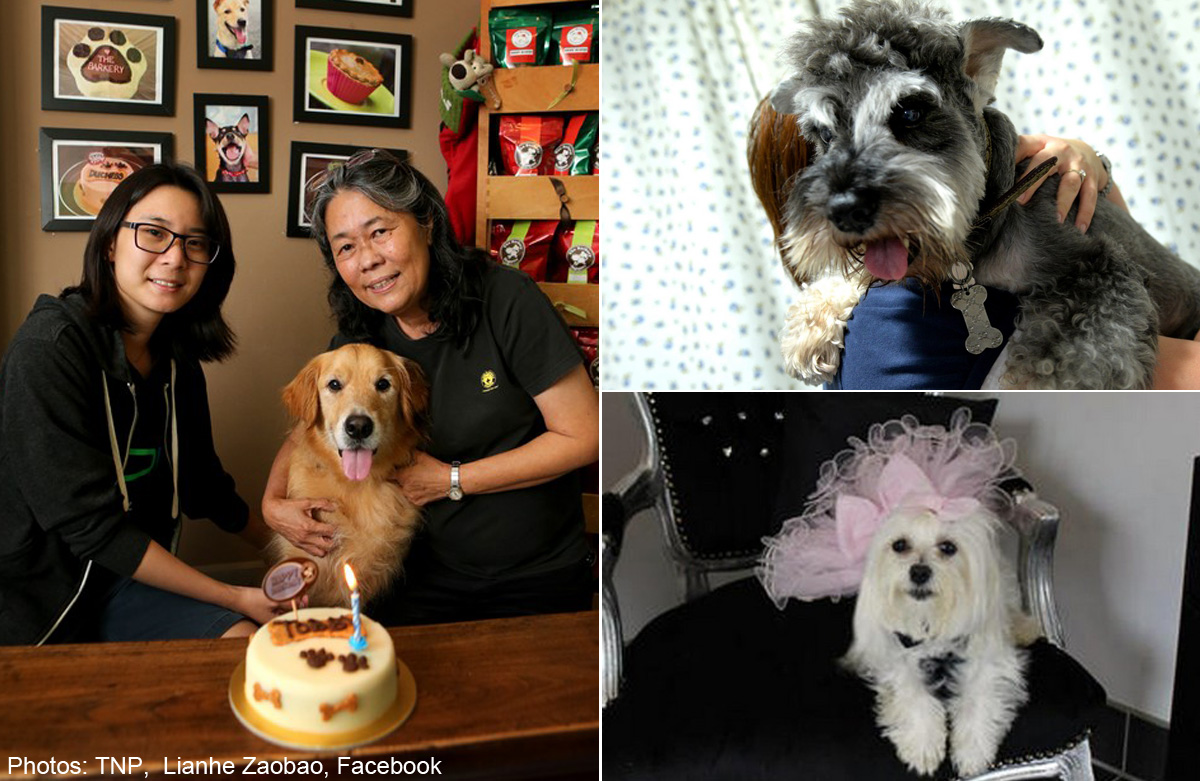 SINGAPORE - She has told her husband that he is not the love of her life.
Instead, Hammer, an 11-year-old miniature schnauzer, has her heart in his little paws.
"My dog is very important to me," says Mrs Evelyn Chew, a lecturer in her late 30s, giggling.
For the record, her husband tells this reporter that he is "resigned" to it, albeit with a rueful smile.
Indeed, Hammer was part of the couple's $3,000 wedding photoshoot.
Mrs Chew even forked out an additional $500 at the shoot so that Hammer could get a series of professional shots done.
And these are not all the perks this fur-kid gets to enjoy.
It walks around with a Coach collar and leash, as well as a Gucci dog tag.
Pet parents like Mrs Chew, who are willing to splurge on their pets, are fuelling new businesses. (See report on facing page.) Dog clothes, custom-made soaps and doggy day care, you name it - myriad shops have opened to cater to this demand.
Hammer also enjoys a weekly full-body massage given by a home-visiting therapist from Pawsitive Sensations, a company dedicated to professional canine massage therapy.
BIRTHDAY PARTIES
And on Hammer's birthday, which falls on Sept 3, Mrs Chew organises a get-together for the dog and its canine friends to celebrate the occasion.
Says Mrs Chew, also the mother to a 13-month-old girl: "I'll do the usual - get him a birthday cake, get some dog cupcakes and prepare goodie bags for both the dogs and kids if my friends are bringing their children along."
Each of these affairs, which she has had annually for the past 11 years, come up to about $2,000 each time, but she doesn't mind the cost one bit.
She explains: "If you can afford it and want to spend money on your dog, why shouldn't you?
"It's a short life for them, so why not let them enjoy it while it lasts?"
Hammer has been with her since it was just three months old and the bond between them is "unbreakable", Mrs Chew says.
Indeed, on almost every holiday she has gone on since, Mrs Chew has invariably returned with a present or two in hand for the little one.
She admits that she can get homesick because she misses her dog. When that happens, she writes postcards to Hammer to tell him details about her trips. "I can't tell you how many postcards I've written to him in the past because there are just too many."
The postcard sits in her mailbox until she returns. Then, she sits and reads them to the dog.
Mrs Chew laughs and says: "I was even thinking about creating a book with all my postcards to Hammer.
"It would be a good way to document my trips, don't you think?"

This article was first published on January 18, 2015.
Get The New Paper for more stories.