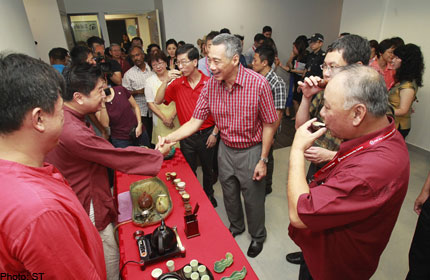 Prime Minister Lee Hsien Loong stressed on Sunday's night the importance of rendering more help to lower-income and elderly Singaporeans so they can better cope with the rapidly changing times.
The fast-paced developments in Singapore and the world today may be "exciting and invigorating" for some, especially the young and those with skills, he said, noting there were "many things which you can do" and "many opportunities to explore".
But for more vulnerable Singaporeans, the adjustments that have to be made can be difficult.
"They will need help to overcome the challenges which we face, whether it's cost of living, whether it's health care, whether it's a widening income disparity."
To assist this group, Mr Lee suggests society "pools resources" to help them at three levels.
The Government is "strengthening our social safety nets nationally and reviewing policies to help the vulnerable groups more".
The community should also rally together to address social needs and reach out to take the initiative "to do things which the government is not able to do", he said.
Finally, the individual should be "still self-reliant, still working hard, still taking care of our own families and working together to build a better tomorrow".
Helping this group ensures that "when we advance and move into the future, we all go together".
Mr Lee was speaking at the opening of the new Pek Kio Community Centre.
The four-storey centre is the first to be "co-located" with a school - Farrer Park Primary School.
Connected by two link-bridges, it allows students to use the centre, including its 200-seat performance theatre and dance studios.
After school hours and on weekends, residents can use the school field and indoor sports hall.
Earlier on Sunday, Mr Lee attended a sports carnival at Sengkang West.
The ward's MP, Dr Lam Pin Min, announced that a new NTUC My First Skool childcare centre at Blocks 446A-C in Fernvale will be completed by year end.
It will accommodate 75 childcare and 20 infant-care places.
The PAP Community Foundation will also build three new centres in Sengkang next year and in 2015, in anticipation of an increased population from 11 Housing Board Build-To-Order projects to be completed in Sengkang by 2015.
elgintoh@sph.com.sg

Get a copy of The Straits Times or go to straitstimes.com for more stories.