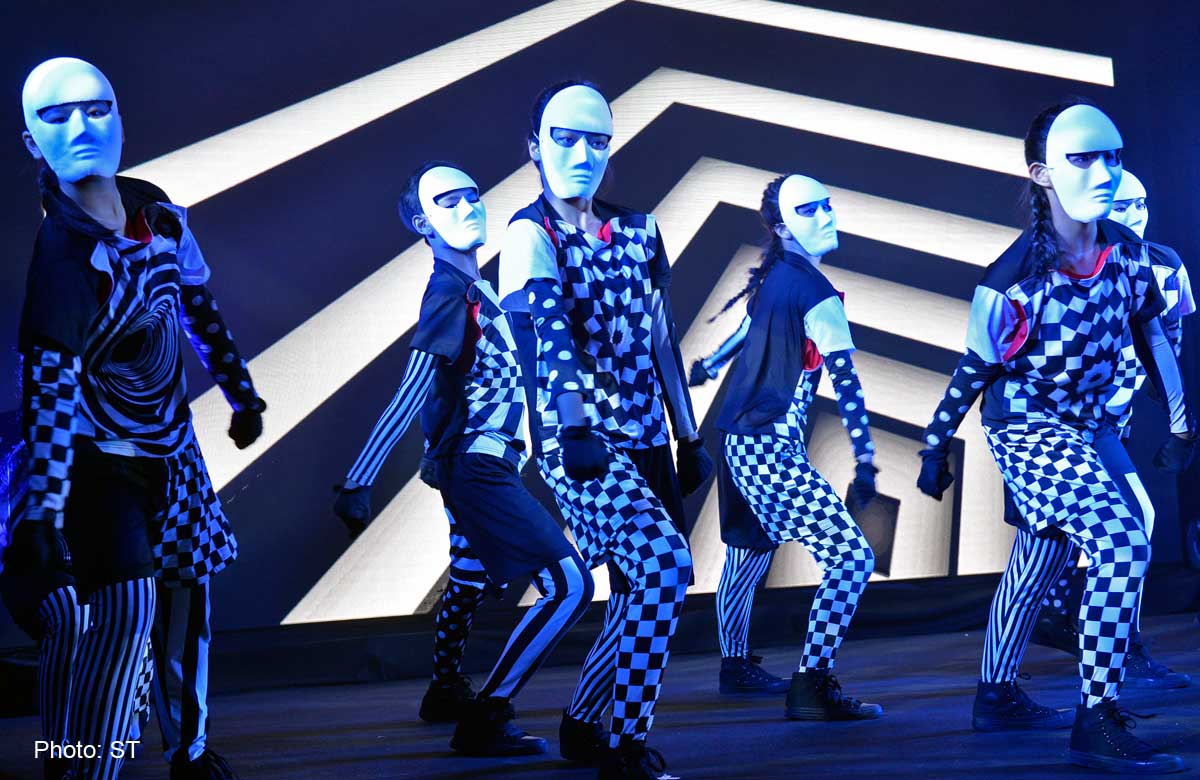 PYROTECHNIC displays of the crescent moon and five stars, bright colours and the largest multimedia set-up are set to wow spectators at this year's National Day Parade (NDP).
Two water fountains that can shoot up to three storeys high will move to music and the pyrotechnics in the finale will feature stars each made up of 49 individual red flames.
"It will be an eye-popping, captivating and heartwarming show... which we hope will not only wow your senses but capture your heart," said the chairman of the NDP Show Committee, Colonel David Neo, at a media briefing yesterday.
Some 3,000 student and adult performers wearing costumes in strong colours like red, blue and yellow will share the stage with projection effects that are large enough to cover three basketball courts.
Creative director Dick Lee said bright colours and pop music feature strongly in this year's performances.
"I wanted the show to have an element of a pop concert because that's one thing that people really enjoy. This is a celebration, it's really upbeat," he said.
This year's show segment in four acts features the stories of five ordinary Singaporeans with a can-do spirit, to make the parade one that everyone can relate to.
These everyday heroes are people who overcome life's challenges, such as an ex-convict having difficulties finding a job and a disabled child whose character was inspired by Singapore's "Blade Runner" Shariff Abdullah.
"We hope that these stories could inspire our fellow Singaporeans to go on to do something bigger," said Col Neo.
Act 1, titled "Celebrate It!", showcases different professions that have contributed to the success of the nation.
The second act, "Love It!", highlights the warmth of family and our multicultural society.
The show then takes on a more reflective tone as stories of the five Singaporeans further unfold, in the "Live It!" segment.
Finally, dances and marching band performances by young Singaporeans round up the show in Act 4, titled "Be It!"
There may be no new theme song this year, but past NDP songs and songs about Singapore have been given a new spin in remixes and mash-ups that take on a pop feel. These include Big Island, One People One Nation and Where I Belong.
"Hearing the songs in a different way makes you suddenly pay attention to them and rediscover them," said Mr Lee.
Ms Low Jee Ho, 70, a People's Association member who will praticipate in her 15th parade this year, said: "I'm very happy because through performing, I've got to know so many friends from different ethnic groups.
"I also get to perform with many young people," said Ms Low, who will be doing a Malay dance."As long as I can walk, I hope to be able to participate."
joseow@sph.com.sg

This article was first published on July 09, 2014.
Get a copy of The Straits Times or go to straitstimes.com for more stories.