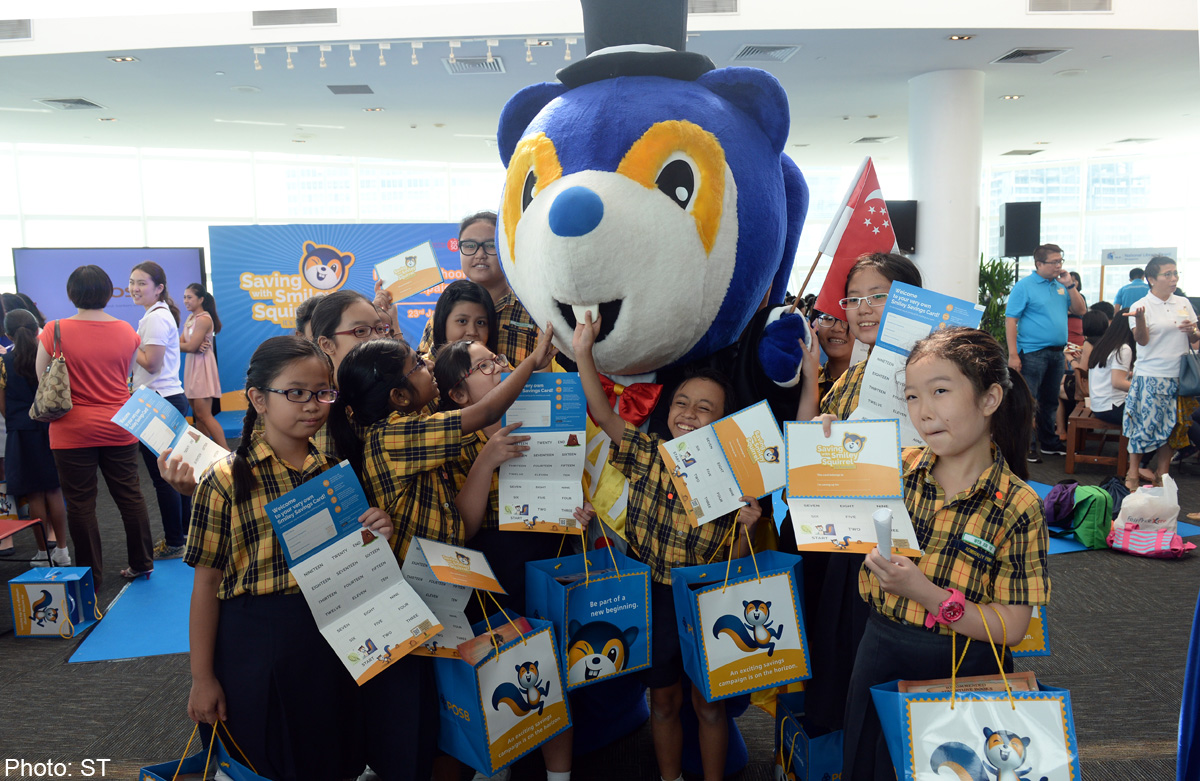 Admiralty Primary School pupil Jaskirant Kaur grew up listening to her father talk about how he built up his savings with stamps as a child and saved up to buy books and toys.
Yesterday, the 12-year-old got to live out her father's stories, as POSB revived its National School Savings Campaign.
The campaign, which was first launched nearly 50 years ago, is into its third edition. While it will still feature the popular mascot, Smiley the Squirrel, this year's campaign comes with a digital twist.
Pupils can download a mobile gaming app, Smiley Town, which tracks the total number of stamps they have collected and the money they have saved. It will also share money-saving tips.
The campaign also joins Singapore's push towards cashless transactions with the option to buy stamps using ez-link cards.
From Feb 2, primary school pupils with POSB accounts can collect their stamp books from any POSB or DBS branch, SingPost outlet or participating Pacific and Popular bookstores.
Fifty-cent stamps will be available for purchase at all SingPost outlets and participating bookstores.
Pupils who complete their stamp cards with 20 stamps can deposit them into any POSB or DBS quick cheque deposit boxes.
For every $10 saved each month, students will receive a $1 bonus from POSB. The campaign runs for 10 months and the Smiley Town app will be available on app stores from Feb 28.
Said 12-year-old Leroy Liew from Admiralty Primary: "It (the campaign) makes me more determined to save and I will encourage my parents to save more too."
POSB, which launched the campaign in conjunction with SG50 celebrations this year, found through a survey of 5,000 respondents that about 90 per cent felt that the value of saving had eroded among children.
The same proportion felt that reviving the campaign would be effective in teaching children to save.
Speaking to guests at the launch yesterday at the Central Public Library, Education Minister Heng Swee Keat recalled how he looked forward to collecting all the stamps until his booklet was full when he was young.
However, he reminded children who attended the launch that while it was good to know the value of money, it was also good to know the "value of things that don't cost any money at all".
"Help your mum and dad clean up the house or help a friend who is in need," he said.
andreang@sph.com.sg

This article was first published on Jan 24, 2015.
Get a copy of The Straits Times or go to straitstimes.com for more stories.