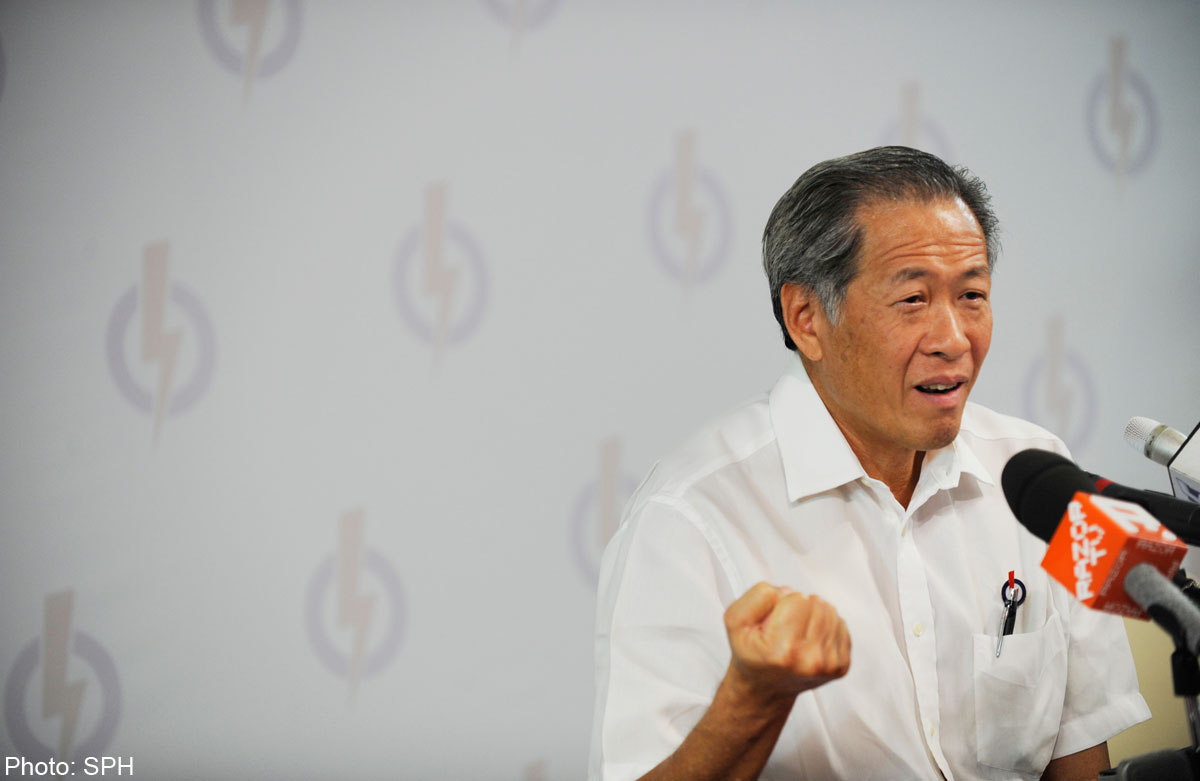 Potential People's Action Party (PAP) candidates are already active on the ground, ahead of the next General Election, said party organising secretary Ng Eng Hen.
Their earlier-than-usual deployment came in response to feedback after the 2011 General Election, he said in an interview published in Chinese daily Lianhe Zaobao yesterday.
Then, many Singaporeans had said the PAP should send people to grassroots organisations as early as possible.
"We have already begun doing this and several candidates are already active within the grassroots organisations," said Dr Ng, who is also Defence Minister.
"The advice we give them is: listen and understand the demands of the people; build relationships with the residents; win the trust of residents...
"This way, during the GE, you will be able to better understand the demands of the residents."
Ahead of the next GE - which must be held before January 2017 - some of the potential candidates are serving in PAP branches, such as helping out during Meet-the-People sessions, while others are taking part in grassroots organisations' activities.
"We especially value candidates with grassroots experience, because these people have already demonstrated their determination to help residents," said Dr Ng.
"We have more such candidates." But he did not reveal which constituencies they are active in.
Asked how many potential candidates there are, he said: "It is a sufficient number. Sufficient for self-renewal; sufficient to ensure we net driven people with fresh ideas; sufficient to ensure we have successors."
According to Lianhe Zaobao, a select group led by the PAP organising secretary and Health Minister Gan Kim Yong is still inviting potential entrants to tea sessions.
A PAP insider who declined to be named told Lianhe Zaobao that newcomers were posted to grassroots organisations at the end of last year - earlier than during the run-up to the previous GE.
The insider added that the PAP no longer allows newcomers to join as grassroots advisers, only as volunteers.
Grassroots advisers are usually the PAP MP for the ward or the defeated PAP candidate, and second grassroots advisers are commonly assumed to be new candidates.
Dr Ng, who is Leader of the House, also noted that Parliament has maintained a civil atmosphere despite more opposition MPs.
Political point-scoring does occur, yet MPs here are still civil and respectful, and this "polite style" is something "we are proud of and something that we should preserve", he added.
Singapore has avoided becoming like some other countries where an increasingly strong opposition "caused parliamentary debates to become wars of words with no constructive purpose".
With Parliament taking a mid-term break next month, Dr Ng noted that what lies ahead is crucial.
"Just like in a sporting competition, the second half is always the more important one," he said.
"Because no matter how well you performed in the first half, the second half always has a deciding influence."

Get a copy of The Straits Times or go to straitstimes.com for more stories.