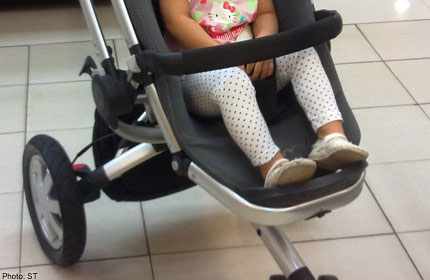 SINGAPORE - Some parents have an inflated sense of entitlement, especially if they are armed with prams.
Surprisingly, these reactions are from women. They come in the wake of the video which a mother uploaded on citizen journalism website Stomp, after she had problems in getting a pram on board a bus.
Mrs Pearl Ng, 36, boarded an SBS bus last week at Commonwealth MRT station with her daughter in a pram. The bus driver had told her that she needed to take her daughter out of the pram for safety reasons. Mrs Ng refused. A heated 15-minute exchange ensued.
Mrs Ng was expecting support from the online community, but was flamed instead.
One comment on Stomp by Abs_Serendipity says: "Although I have a kid, I will never take a stroller up on the bus as I'm a very considerate person, and also because of safety issues. (It would be better if) strollers are banned in buses, they are so bulky that they block our way!"
Blogger Holly Jean Aroozoo tells The New Paper on Sunday that she often encounters such mothers with prams while on public transport.
"You can see how inconsiderate they are when they ram their pram in as soon as the doors open."
Ms Aroozoo, who plans to have kids in the future, says: "Maybe it's too early to say, but if I had kids, I'll just strap them on me or take a cab."
Marketing executive Clara Lim, 24, has also dealt with entitled parents.
She recalls: "A mother wheeled her pram onto my foot. As we turned to look at each other, she simply stared, then walked past without apologising or even acknowledging that she had hurt my ankle.
"I get that accidents are unavoidable, but to just walk past? That's just unacceptable."
Teacher Helen Ng, 34, questions mums heading out with their small children.
"I don't understand why mums travel alone with their young toddlers to do shopping, especially when Singapore is so crowded.
"Leave them at home and both you and the people around you will have a much better time," she says.
Ms Mabel Wong, who has two toddlers, agrees: "If you want to take your kid out, you've got to manage everything that comes with it. If you can't handle it, don't bring the baby out." Try it for yourself, then you will understand.
This is the message from mums The New Paper on Sunday spoke to about the issue of getting around Singapore with a baby and stroller in tow.
Mrs Ruth Mak, mother of two children aged one and three, says: "Honestly, it's a bit stressful, especially if I have to travel during peak hours. The stress comes from hoping we can find a seat and that I won't injure anyone with the pram while boarding."
Then there's also the fear that the pram will roll away if both hands are occupied either holding the baby or juggling groceries, adds the 29-year-old housewife.
"Sometimes, people just stare as I struggle to lead my older child to a seat or a safe spot to stand. The bus driver may also move off while we're trying to find a seat," she says.
She's not alone in her plight. Mrs Yvonne Chee, who has an 18-month-old son and is pregnant with her second child, has been scolded by a bus driver who became impatient with her while she was folding her stroller to get on the bus. This was just a month ago.
Another mum, Mrs Ruth Ong, who has a six-month-old son, says she has given up travelling with a stroller on public transport - for now.
"I can't carry my stroller onto a bus with my baby slung on me and carrying a heavy diaper bag, " she says.
But it's not much easier to travel by taxi. Madam Amy Tan, 32, who has two children, aged three months and three years old, says she needs two hands to fold her stroller so it fits into the boot.
"And I can't exactly dump my baby in the back of the taxi while doing that, so the taxi driver sometimes helps me to hold the baby," she says.
Reflecting on the recent case of the mother who refused to fold her stroller on a bus and argued with the driver, she says: "Prams often come with safety straps and harnesses, and I don't see how safety can be an issue if the brakes are on."
Mrs Chee also points to efforts overseas to accommodate parents.
"In countries such as Denmark, caregivers with strollers use priority seating at the front of the bus. While the buses can fit only two strollers at once, service on busy routes is so frequent that the wait is never that long."

Get The New Paper for more stories.