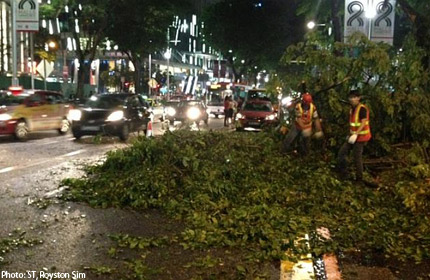 The uprooted tree led to traffic snarls during the evening peak hour, blocking two of five lanes along Orchard Road. Work crew on the scene said the tree had earlier blocked four lanes, leaving only one lane open to traffic.

Get the full story from The Straits Times.
According to a spokesperson from the Singapore Civil Defence Force, a call for assistance was received at 5.58pm.
The incident occurred along Orchard Road, near the 313@Somerset mall.
Upon the arrival of SCDF officers at the scene, a Chinese woman in her 30s who was 11 weeks pregnant complained of giddiness and nausea. She was subsequently conveyed to the Singapore General Hospital. No injuries were reported.
candicec@sph.com.sg