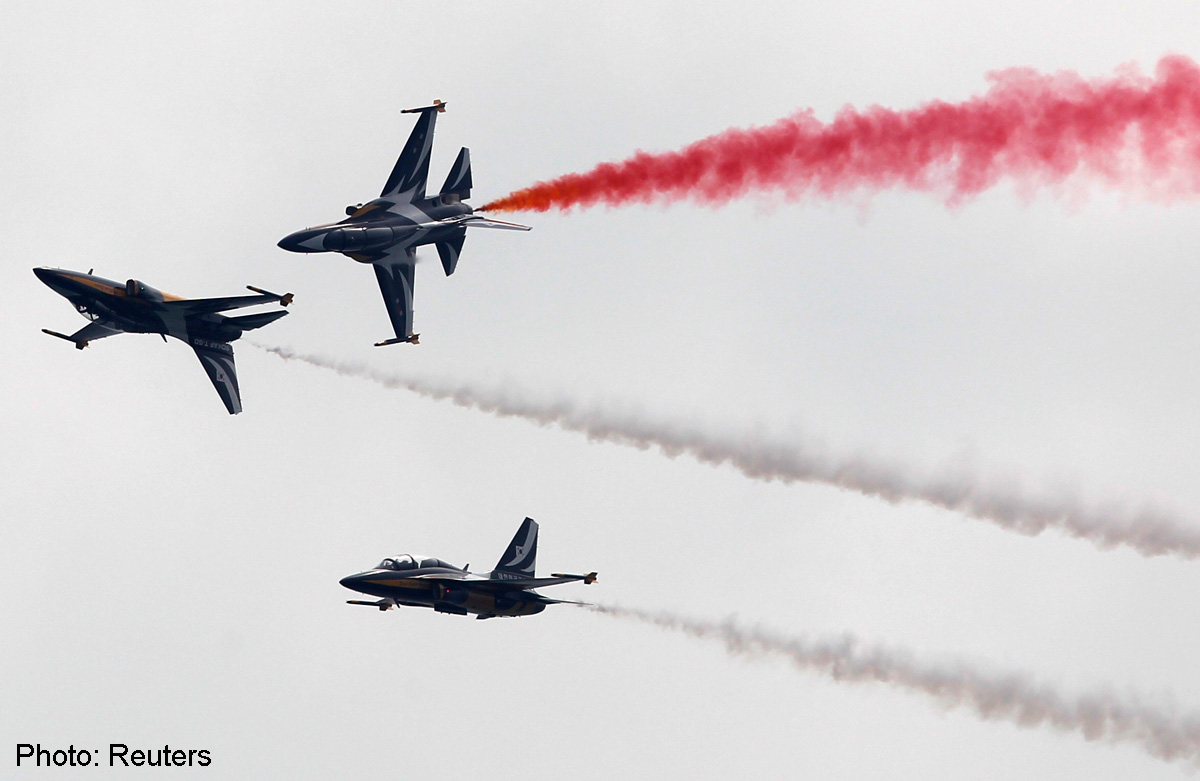 SINGAPORE - From contractors to caterers, the race is on to put the finishing touches to booths for this week's Singapore Airshow. Exhibitors have moved into the 40,000 sq m exhibition space, while static aircraft displays have gone up at the 90,000 sq m outdoor display area at Changi Exhibition Centre.
Organised by Experia Events, the biennial show has reduced the number of public tickets available by about 13 per cent to 80,000 compared to 2012. This is due to less outdoor walking space and the earlier starting time of the aerobatic flying displays.
The biggest exhibitor this time is once again home-grown defence manufacturer ST Engineering, which is taking up more than 2,000 sq m. It will occupy two booths near the main entrance, with a 15m by 3m large screen.
"This provides a rare opportunity where Singapore-designed and Singapore-made defence products are put in a place for the public to touch and feel," said Mr Patrick Choy, the company's executive vice-president for international marketing.
Pico Art International is setting up the exhibition booths and hospitality chalets. Executive director Ng Meng Chuen said its preparations are "on track", adding that Pico has quadrupled its worker strength from 100 to 400 since Monday and extended working hours by four hours a day.
In total, over 13,000 workers are involved in setting up the exhibition featuring over 1,000 exhibitors from 47 countries. There will be 22 national pavilions displaying flight equipment from their respective countries, such as Malaysia, for the first time.
To mark its 45th anniversary, the Republic of Singapore Air Force has a pavilion to showcase its history. It will also display 17 types of aircraft and weapon systems, including F-15 jets and unmanned aerial vehicles.
More than 90 commercial and military aircraft will be displayed. Highlights include Airbus' new A-350 XWB; the Boeing 787 Dreamliner; and P-8A Poseidon maritime surveillance aircraft.
Sixteen caterers will be on hand to feed more than 125,000 expected visitors. Associate chief operating officer of Creative Eateries Daniel Yong said his 100-strong staff are expecting to provide two tonnes of food in total for a daily crowd of 2,000 at his two restaurants.
The airshow will run from Feb 11 to 16, with the first four days only for trade visitors and the final two for the public.
Adult tickets are on sale for $22 and child tickets for $9 at Sistic outlets.
jianxuan@sph.com.sg

Get a copy of The Straits Times or go to straitstimes.com for more stories.