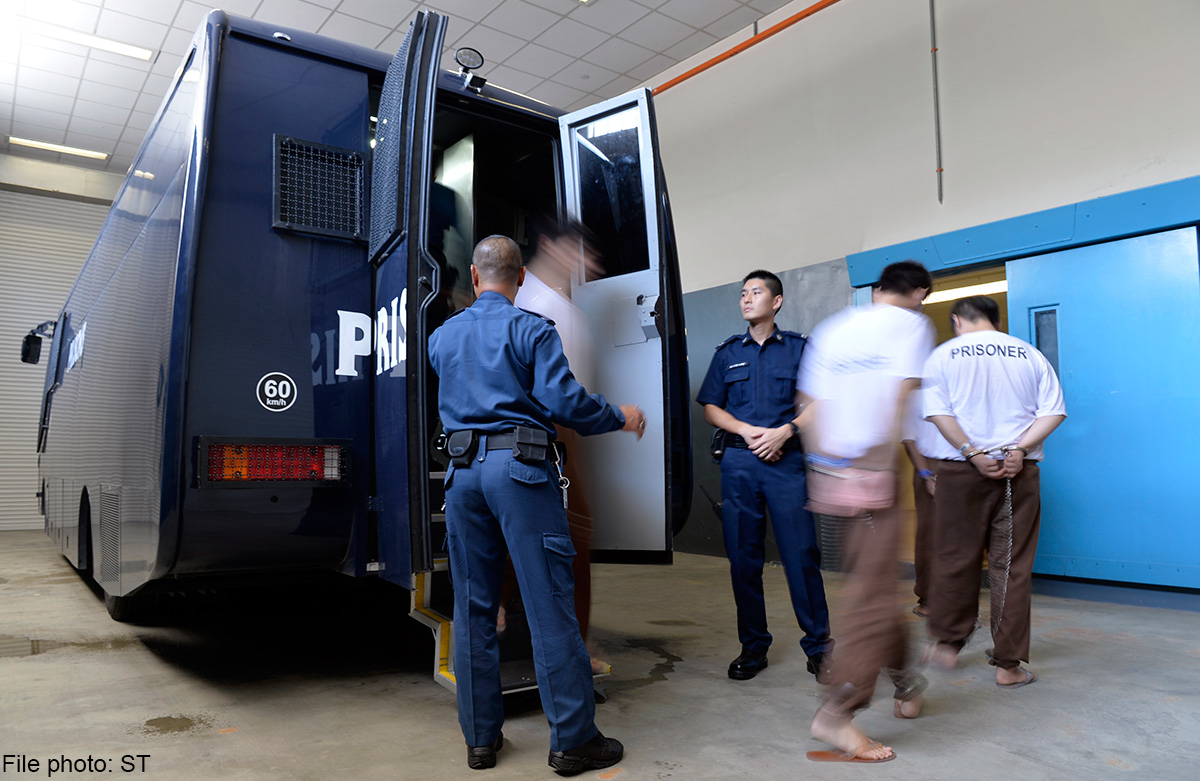 SINGAPORE - Figures show that close to three in 10 inmates released in 2012 went back to jail. The rate is the highest in at least nine years.

Get the full story from The Straits Times.
Here is the statement from the Singapore Prison Service:
The Singapore Prison Service (SPS) today released key statistical data that re-affirmed our strong partnership with the community in throughcare efforts to support inmate rehabilitation and reintegration.
Holistic Throughcare approach
Overall recidivism rates have remained relatively stable. SPS will continue to monitor the situation closely and remains committed to preventing re-offending.
Various measures have been put in place to strengthen incare and aftercare programmes and ensure a holistic, throughcare approach towards rehabilitation. SPS has taken a differentiated approach to dealing with offenders. Since April 2014, higher-risk drug addicts in the Drugs Rehabilitation Centre are given a more intensive programme. Young and first-time drug offenders assessed with lower risks are emplaced in the Community Rehabilitation Centre (CRC), which began operations in May 2014. The Mandatory Aftercare Scheme (MAS) was also implemented in July 2014, to provide selected ex-offenders with structured aftercare immediately after their release in the form of supervision, counselling and case management.
Commenting on the significance of this holistic throughcare approach, Ms Lee Kwai Sem, Director of SPS' Rehabilitation and Reintegration Division said: "SPS takes an evidence-based approach in our rehabilitation programmes, where the needs of ex-offenders in the areas of criminal thinking, employment and family support are targeted. The public's support is critical in their reintegration journey. However, the ex-offender himself must also be motivated to change. "
Inter-agency and community collaborations essential in supporting rehabilitation
SPS recognises that the community is essential in supporting rehabilitation. SPS works closely with CARE Network (Community Action for the Rehabilitation of Ex-offenders) partners such as the Singapore Corporation of Rehabilitative Enterprises (SCORE), Singapore Anti-Narcotics Association (SANA) and other NGOs to provide seamless aftercare for inmates upon their release.
"The partnerships forged between SPS and community partners under the CARE Network are essential to support successful rehabilitation and reintegration of offenders," said Ms Lee. "Exoffenders who are committed to positive change have access to resources through our community partners in areas such as employment assistance and social support. Aftercare agencies serve as important community touch points for ex-offenders, and reduce their risk of turning back to their old ways."
In 2014, there were 4,433 employers registered with SCORE to provide job opportunities in industries such as hospitality, logistics, and manufacturing. This helped SCORE secure employment for 1,865 inmates prior to their release.