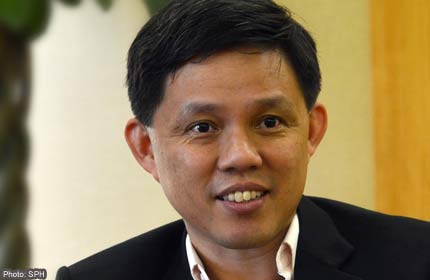 ALMOST a year after outlining a five-year plan to improve the childcare sector during last year's Budget debate, Minister for Social and Family Development Chan Chun Sing is "cautiously optimistic" about how the sector has progressed so far.
His mantra is to improve the accessibility, affordability and quality of pre-school education.
"We are cautiously optimistic that the pieces are moving into place," said Mr Chan in an interview with The Straits Times earlier this week.
He added that there has been "very rapid growth" in the number of childcare places, which grew from being enough for about 17 per cent of the cohort eligible for pre-school five years ago, to covering 33 per cent early last year.
The goal is to add 20,000 places by 2017, to ensure there are enough places for 50 per cent of the cohort. Last year, 8,818 places were added.
To better gauge demand and decide on the location of childcare centres, the Early Childhood Development Agency (ECDA) will set up a database of those in the queue for a childcare place by the second half of the year.
Mr Chan said improving accessibility is more straightforward than improving affordability and quality of childcare services.
He said he hopes the five anchor operators, including three which were appointed last month, will provide good benchmarks and "set the pace" of how childcare programmes should be priced.
Anchor operators get government help, such as rental subsidies and priority in securing Housing Board sites for new centres, in return for keeping fees low. Their monthly fees for a full-day childcare programme cannot exceed $720.
Mr Chan said: "We cannot prevent people at the extreme edges going for niche programmes... and realistically, there's no way that you can stop them. But for the mass market, you must give them confidence that the programmes provided by the anchor operators are good enough."
A panel of experts in pedagogy and child development evaluated the curriculum of the new anchor operators before selecting them, he said. The ECDA will also ensure that "the basic meal that they serve is nutritious enough", he added.
Asked about concerns of taxpayers' money being used to subsidise profit-making operators - the anchor operator scheme was expanded to include for-profit operators - he said taxpayers would benefit in the long term.If an anchor operator can make a profit, "the whole society benefits". "I'd have received valuable information on how the curriculum and sector can be organised more efficiently.
"If I mandate that they will never make any money from this, then there are all sorts of ways that they can pretend to not make money. There's no efficiency gained at all." But there is a "short-term safeguard". A "substantial" portion of an anchor operator's profit has to be reinvested into developing the capability of the sector, he said.
More effort will be made to retain teachers, too. "Every time we lose teachers, we have to retrain another batch of teachers. That takes up resources... It's better for us to keep the teachers who are good and passionate in the sector."
Last year, Mr Chan announced a new Continuing Professional Development Masterplan, which includes a road map outlining key responsibilities for staff, who will have to complete courses to move ahead in teaching and leadership pathways. While he did not disclose how teachers' pay will be raised, he said the ECDA had shared salary data for the pre-school sector with operators in December.
Some operators, particularly the smaller ones, do not know what the salary benchmark in the market is, he said. "We hope that by sharing such things, it will encourage them to look at some of their human resource practices... We hope it will be a first step to at least get things moving."

Get a copy of The Straits Times or go to straitstimes.com for more stories.