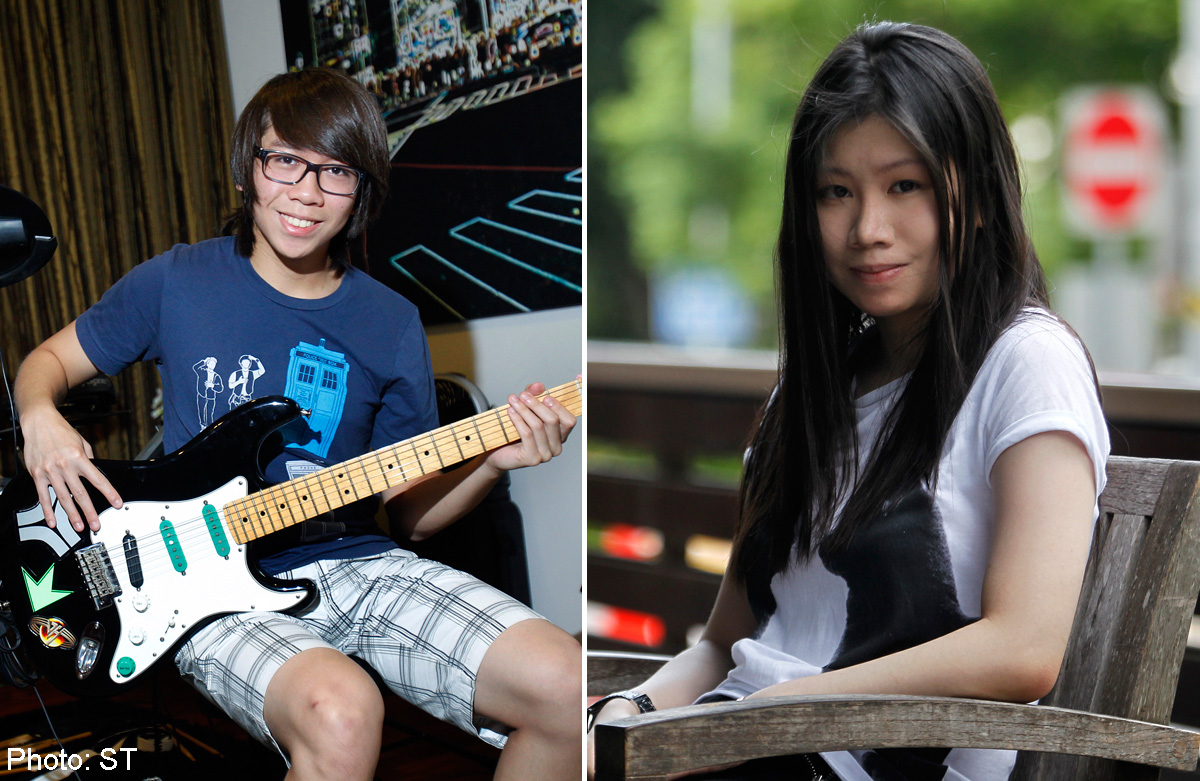 SINGAPORE - Broad-based pre-university curriculum with less focus on exams helps students thrive
When Elwin Lim obtained a score of 202 for the Primary School Leaving Examination, his father fretted that he might not make it to university.
Seven years on, the 19-year-old is among the top scorers for the International Baccalaureate (IB) diploma exam at Anglo-Chinese School (International), with 42 points out of a maximum of 45, and is now considering his university options.
He is among a group of students whose strong performance in the recent IB exam far exceeded expectations based on their PSLE results. The results of the IB, the equivalent of the A levels, were released last week.
Three Singapore international schools that offer the IB - Hwa Chong International, ACS (International) and St Joseph's Institution (International) - said they take in students with a wide range of PSLE scores and their programmes focus on adding value.
Hwa Chong's latest batch of 62 graduating students included 25 who sat the PSLE and obtained scores of 171 to 241 - or an average of 214.
Four who scored below 200 at the PSLE cleared the IB exam with scores of 32 to 36, said principal Bob Koh.
The top 10 students at ACS from its batch of 151 scored an average of 40 for the IB despite having a PSLE average score of just 226. Principal Rob Burrough said: "Without value-added improvement we would expect a student with a PSLE score of 200 to 220 to score in the 20s in the IB."
The average score for the 2013 IB exams in Singapore was 36.53, while the average score globally was 29.95.
At SJI, 60 per cent of its recent batch of 146 IB students had an average PSLE score of 226 and they scored an average of 37.2 in the IB exam.
Six with PSLE scores below 200 scored an average of 33.8 for the IB, including Xenia Wong, who went from a PSLE score of 199 to 40 at the IB.
While a school's environment and teaching staff are instrumental in producing academically successful students, principals, teachers and students said there are unique aspects of the IB diploma programme which inherently suit some students.
Elwin's father, retired insurance agent Eric Lim, 65, said the broad-based curriculum let his son venture into unfamiliar territory by taking Spanish language and music in his last two years and excelling at both. "The IB suited him because he enjoys the wider and deeper learning," he said.
Hwa Chong's Mr Koh said the IB requires students to have both higher-order cognitive skills as well as soft skills such as communication and teamwork.
"Students must learn, acquire and develop that range of skills to do well. That in itself, though challenging for students, could be engaging and motivating at the same time," he said.
IB students are also given time to work on an Extended Essay, a research thesis, and Theory of Knowledge, which covers reasoning and philosophy.
"Often, due to their interest and passion for specific pieces of work, students are able to translate that passion into high performance at the assessment," said Mr Koh.
A core requirement of the IB is the Creativity, Action and Service component where students have to fulfil 150 hours - 50 hours for each area - beyond academic requirements.
For Creativity, some learn art or music outside of school or pick up a new language. The Action criteria require them to learn or play a sport, while the Service component may see them joining the school's Interact club or volunteering on their own outside of school.
Hwa Chong student Cindy Teo, 19, said she honed her leadership, interpersonal and public speaking skills through the various events she helped to organise.
"In Secondary 1, I didn't even dare to raise my hand if I had a question. Now I have no problems doing presentations," she said.
ACS' Mr Burrough said a focus on whole-student development both in and out of the classroom has a positive impact on academic performance. "Critical thinking, inquiry and problem-solving are key aspects underpinning the programme, which encourages each student to reach their academic potential," he said.
Also significant is the small class size - typically, 15 to 25 students. This means they get closer attention from teachers.
Several students said the most compelling reason that they did much better than their PSLE scores indicated was that selected assignments done over two years count towards the final IB grade.
These internal assessments are checked by external examiners and normally contribute between 20 and 30 per cent of the final grade.
SJI's Xenia Wong, the elder child of a chief operations officer and a housewife, liked that the final IB exam was "not everything".
"They count the best three reports over the two years and I could see myself improving, so that was encouraging," she said. "I tend to be very nervous about exams and can't think straight. But I was very relaxed for the IB exams."
ACS' Elwin said having coursework count towards the final grade kept students on their toes. "I couldn't slack off and it was a good thing. When there is only one final exam, you may lose sight of it and not work throughout," he said.
Mr Renato Rainone, SJI's head of senior school, said teachers were developing ways to provide feedback so that students would think about how to do better.
"Students are empowered to improve their learning as they are not just checking for correct and incorrect responses but are reflecting on their responses and attempting to improve their work," he said.
Ultimately, the results also show that students thrive in a learning environment that suits them.
SJI head of mathematics Patrick Denousse said: "The fact that we are not overly exam-focused allows our students the freedom to make mistakes and learn from them. Late bloomers find their niche here."
Mr Burrough said: "All students mature at different rates and finding a passion for study, along with a deeper understanding of concepts and a greater capacity for learning, comes to some later than others."
janeng@sph.com.sg

Get a copy of The Straits Times or go to straitstimes.com for more stories.