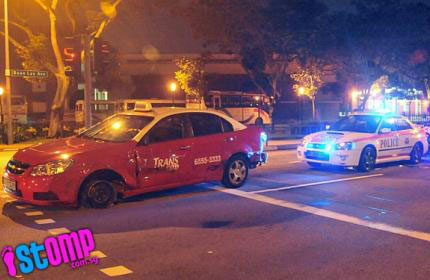 A cabby who crashed into 10 cars in one night has been banned from the road for three years and sentenced to two years of mandatory psychiatric treatment.
Tan Khim Seng, alias Muhammad Khairul Tan Abdullah, was arrested after the wrecking spree on Dec 12, 2011 - with police having to smash his cab's window to arrest the struggling motorist.
The 51-year-old admitted to 10 of 49 charges, mostly traffic-related, which occurred from December 2010 to December 2011. His lawyer told the court the father of one has had a chronic, relapsing psychiatric disorder since 1993. Proceeding on a charge from July
2011, Deputy Public Prosecutor Krystle Chiang told how Tan, who worked for Trans-Cab, failed to stop after driving carelessly and grazing a car in Little India. Eight days later, he cut into the path of a cab, then reversed into it several times before driving off.
Tan's 10-car rampage began when he was driving along Tampines Avenue 5, where he flashed his headlights at a car before inching into its lane, grazing the side of it.
After overtaking, he slammed on his brakes so the vehicle rammed into the back of his cab.
Tan got out and yelled at the driver.
He leaned through the window, grabbed the man's neck and held his fist to his cheek - but left after failing to open his door.
Forty-five minutes later, after colliding with a taxi, he used a windscreen wiper to smash its lights and windscreens. A patrol car spotted Tan's cab on Jurong Canal Drive at around 11.30pm.
When the police tried to pull alongside, Tan swerved into their path, beating the red lights at a pedestrian crossing and scattering people as they tried to cross.
Tan beat another set of lights, then turned onto the Pan-Island Expressway but drove very slowly, causing others to brake. He was arrested at Boon Lay Avenue, where he grabbed a policeman and snapped off his lanyard.
That night he committed 27 offences.
His lawyer, Mr Abdul Salim A. Ibrahim, who acted for him voluntarily, said Tan, a Muslim convert, had bipolar affective disorder which was diagnosed after a painful divorce. He said: "As a result, he is easily prone to get upset over minor incidents."
He added that his client does not intend to drive again.
elena@sph.com.sg

Get a copy of The Straits Times or go to straitstimes.com for more stories.