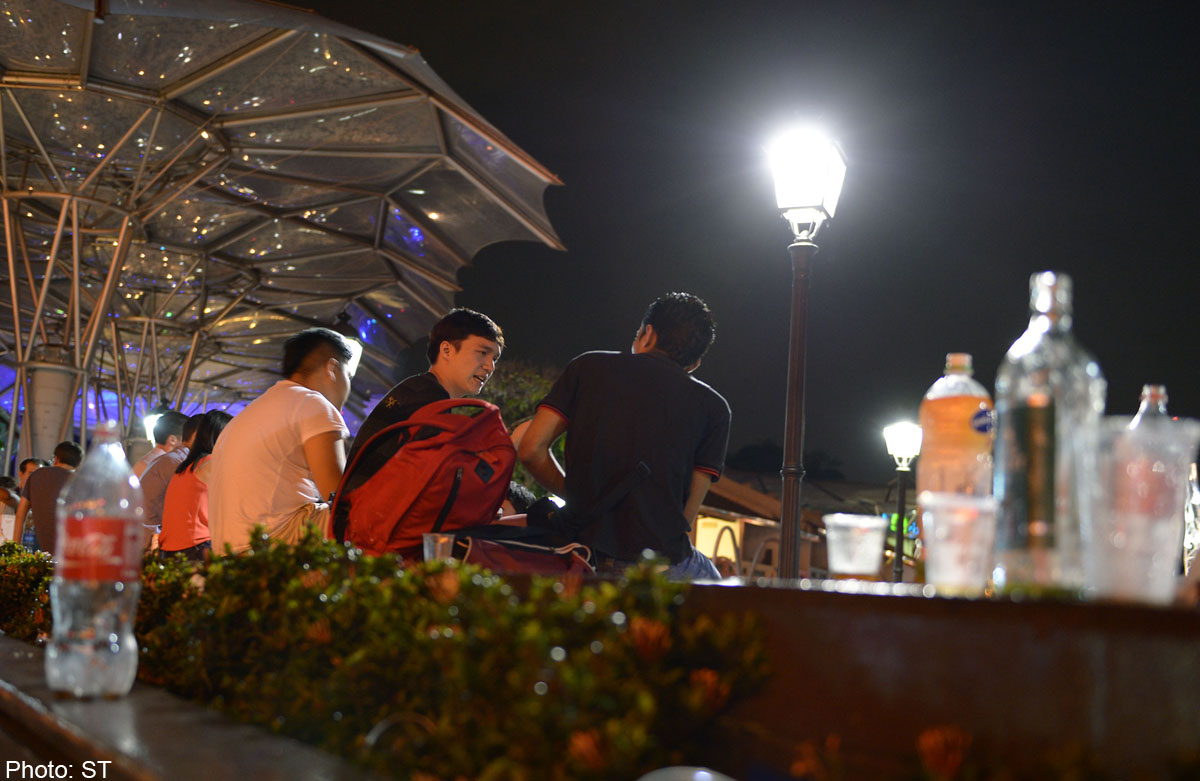 An islandwide ban on public drinking may be on the cards, if Singapore takes a page out of Queensland's liquor control measures. Consumption of alcohol is not allowed in all public places in the Australian state.
Singapore could also choose to go down the route taken by Sydney, which curbs public drinking in designated zones, including popular nightspot areas. Kings Cross, Sydney's red-light district, is an alcohol-free zone, where people are banned from drinking on the streets and in public places.
Australia has also adopted shorter retail sale hours - shops in both Queensland and Sydney, for instance, are not allowed to sell takeaway alcohol after 10pm.
In Kings Cross, nightspots can sell alcohol for consumption on their premises till 3am, but no new patron can enter the clubs after 1.30am.
Representatives of the Ministry of Home Affairs (MHA) and the police visited Brisbane and Sydney last month to study their alcohol laws. MHA plans to announce new liquor control measures in the first quarter of next year.
MHA, which also looked at alcohol laws in places that included Britain and Texas, US, said Australia was chosen for a study visit because of its extensive and effective liquor management regime.
The officials spoke to the Australian police, industry stakeholders and others to understand the laws and adapt best practices for Singapore's context.
Superintendent Patrick Paroz, commander of drug and alcohol coordination of Australia's New South Wales Police Force, said the alcohol-free zones make it easier for the authorities to deal with people drinking in restricted areas, as they can seize alcohol from those who drink illegally.
The no-alcohol zones mean "the vast majority of the community who want to enjoy these spaces can do so without the adverse impact that can sometimes be associated with people who consume too much alcohol", he told The Straits Times over e-mail.
Mr Douglas Grand, chief executive of Kings Cross Licensing Accord Association, which represents licensed premises selling alcohol, said that banning alcohol in certain zones has had a "calming" effect, with fewer people drunk or rowdy on the streets.
In Singapore, people who are drunk in public may be charged with being a public nuisance.
First-time offenders may be jailed for up to a month and fined up to $1,000.
Second Minister for Home Affairs S. Iswaran said in Parliament last month that measures including limiting public consumption of liquor and the hours for alcohol retail sales are being considered.
This article was first published on December 20, 2014. Get a copy of The Straits Times or go to straitstimes.com for more stories.