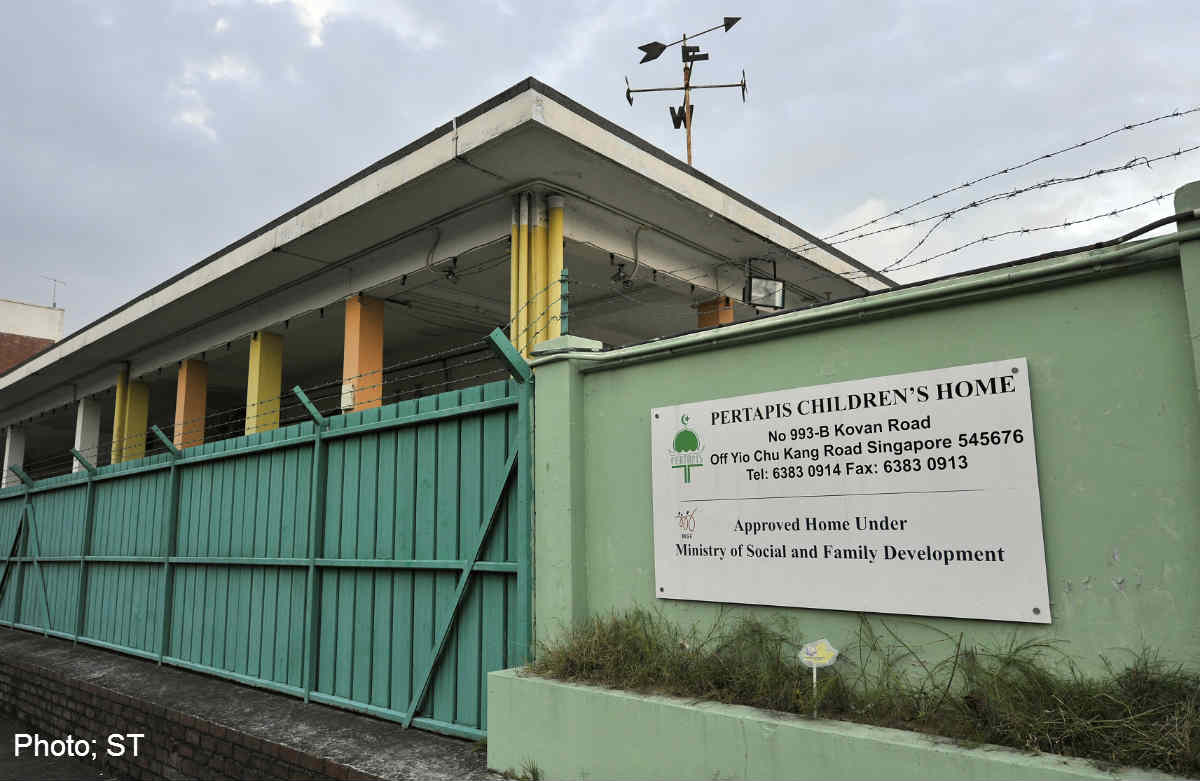 SINGAPORE - Pertapis Children's Home is facing allegations that children under its care were "inappropriately punished physically" by some of its staff.
The Ministry of Social and Family Development (MSF), which lodged the police report on Monday, said on Friday the home is not allowed to take in new residents for the time being.
Five of its staff have also been redeployed to facilities not involving children.
Meanwhile, MSF has directed Pertapis - which has 61 children staying there and 26 staff - to take immediate action to improve its child management practices, and work with the ministry to review the way it is run.
"The ministry will not condone or tolerate any conduct or practice that compromises the children's safety and well-being," said MSF, which has deployed officers to provide the affected children and their families with emotional and psychological support.
It would not explain what it meant by inappropriate punishment, saying the matter was still under investigation.
It also did not reveal exactly how it found out about the possible abuse. But a spokesman did say the initial information came from channels the MSF has put in place to gather feedback on children's homes. This includes a child protection and welfare hotline and a review board.
This is believed to be the first time such allegations have been made against the home, which was established in 1991 as a safe haven for vulnerable children aged between four and 12, who are referred by social agencies.
When The Straits Times visited the home off Yio Chu Kang Road on Friday afternoon, children were playing on the premises' basketball courts, but were later led inside the building by staff. Parents dropping in to see their children said they were shocked by the claims.
"The staff here are very helpful, very patient. It's unexpected. Is it true?" asked one of them, a 46-year-old cleaner.
The Straits Times understands that corporal punishment is not Pertapis' practice when it comes to dealing with misbehaving children. The home usually removes privileges or incentives instead.
Pertapis, a charitable organisation, also runs four other homes, including one for women and girls, another for former drug addicts and a hostel for troubled youths.
Minister for Social and Family Development Chan Chun Sing said on his Facebook page he was saddened by the incident. "The well-being of the children is uppermost on my mind," he said.
He stressed how he had asked his MSF colleagues to provide the children involved with the necessary care and support, and to ensure that the home makes immediate improvements to its practices.
He also urged the public not to let this colour their opinion of care workers here. "Please do not judge all care workers by this incident. Most of them have dedicated themselves to the commendable and difficult task of taking care of children at the homes."
asyiqins@sph.com.sg
Anyone with information about suspected child mismanagement or abuse can call MSF's child protection and welfare hotline on 1800-7770000

Get a copy of The Straits Times or go to straitstimes.com for more stories.