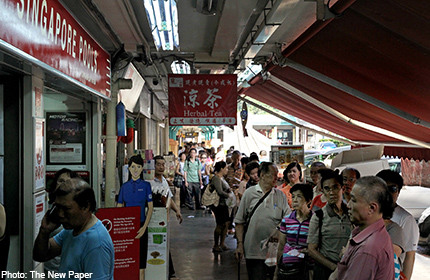 SINGAPORE - She had snagged one of the first few spots in the queue at the Toa Payoh Singapore Pools outlet early in the afternoon.
But three hours later, cleaning assistant supervisor Sharon Yeo found herself stuck at the same spot and the queue had extended beyond four shops.
At least 50 people were waiting in that line to place their bets for the 4D draw yesterday.
Such scenes of frustration were repeated at Singapore Pools outlets around the island except the main branch at Middle Road, which was the only outlet not affected by a fire at SingTel's Internet exchange building in Bukit Panjang.
The New Paper understands that operations at the Toa Payoh outlet was affected from 2.30pm.
Madam Yeo, 48, told The New Paper: "I asked them and they said the system was down. I thought it was only for a while, so I waited."
But she ran out of patience and left the queue at 6pm, the original cut-off time to place bets.
This was despite the outlet duty manager's announcement of a 2½-hour extension to the closing time.
Punters could have tried their luck and waited around to see if the system would return to normal.
Madam Yeo said: "I have been waiting for three hours. I don't want to wait another three just to buy 4D. It's just not worth it."
Another frustrated person in the queue was self-proclaimed "die-hard punter" who wanted to be known as Madam Wong.
'Unacceptable'
The 68-year-old telemarketer, who had been in queue since 3pm, called the system breakdown "unacceptable".
"Where are the IT people manning the system?" she asked.
Madam Wong was especially worried because she was buying 4D for a colleague.
"What if these are the winning numbers, but she won't win anything because I couldn't help her buy?" she said.
By 8pm, the queue had dwindled to just a handful of hopeful punters outside the shop, craning their necks to catch any activity behind the counters.
The crowd finally relented at 8.30pm, when the duty manager apologetically said it was the outlet's closing time.
Due to the system breakdown, the 4D draw was delayed to 9pm.

Get The New Paper for more stories.