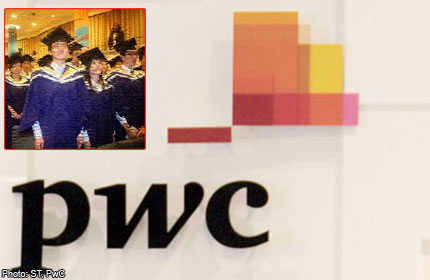 For the third consecutive year, accounting and financial management firm PwC emerged as Singapore's most popular employer among local students and university graduates, according to an annual survey of more than 5,400 university students.
For the very first time Singapore-based banking and financial services provide, DBS, entered the top three of the Singapore Graduate Barometer, placing third, a rung below EY (formerly known as Ernst & Young).
According to the survey, opportunities for career progression emerged as the top characteristic that students and graduates looked for when selecting a prospective employer.
The second most important was being appreciated at work, indicating that 2013 respondents are looking to work for employers who give them due credit for their contributions.
While this year's respondents expect to work longer hours at their first job compared with their counterparts last year expecting to average 46.3 hours a week compared to 45.4 hours a week in 2012, they expect to be paid more for it.
They are expecting an average salary of $3,424 per month compared to the 2012 average of $3,170 per month.
The 2013 Singapore Graduate Barometer was conducted by the Berlin-based trendence Institute, Europe's leading employer branding and recruitment research institute.