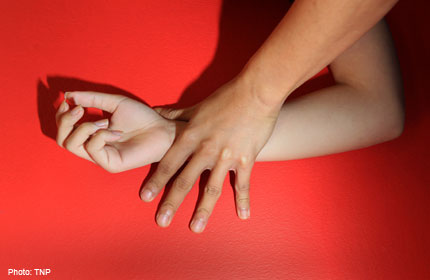 JOHOR BARU - The 10-year-old girl who was kidnapped, raped, sodomised and slashed by a suspected drug addict is now left fighting for her life due to the horrendous injuries inflicted on her.
The girl has been warded in the intensive care unit of the Sultanah Fatimah Specialist Hospital in Muar. She had lost a lot of blood after being stabbed on the right side of her stomach.
The 28-year-old suspect, who is a labourer, had also hit her head with a hard object and slit her private parts when she refused to perform oral sex on him.
The girl is reported to be in an unconscious state and her condition is being monitored by doctors around the clock.
State police chief Datuk Mokhtar Shariff said the girl was abducted while she was cycling to attend religious classes about 1.30pm on Tuesday.
A villager who witnessed the abduction alerted the girl's mother about an hour later as the person did not know the victim's identity until his daughter recognised her friend's bicycle which was left lying on the road. A police report was subsequently lodged.
Police then sprung into action but the manhunt lasted only 15 minutes as they managed to locate the suspect, who was high on drugs, at a petrol station where he had stopped to refuel his car.
They found the blood-soaked girl, who was still in her school uniform, cowering in the passenger seat of the car. The suspect had been remanded for seven days to facilitate investigations.
In Seremban, police were investigating the case of a youth, said to be the son of an Arab millionaire, who was reportedly abducted from a hostel room at a private college in Mantin on Tuesday.
The student, in his 20s, was reported missing after an argument with another student at the hostel earlier in the day.
His roommate later reported receiving a call from a stranger demanding RM20,000 cash to release the foreigner. The roommate however, decided to report the matter to the police.
Just before the police had decided to go into action, the missing youth turned up at his hostel claiming that he had been confined by a group of men.
Nilai police chief superintendent Mohd Yusoff Awang said police had set up a special task force to investigate the incident.
The case is being investigated under section 342 of the Penal Code. The offence carries a maximum jail of one year and RM2,000 fine or both.