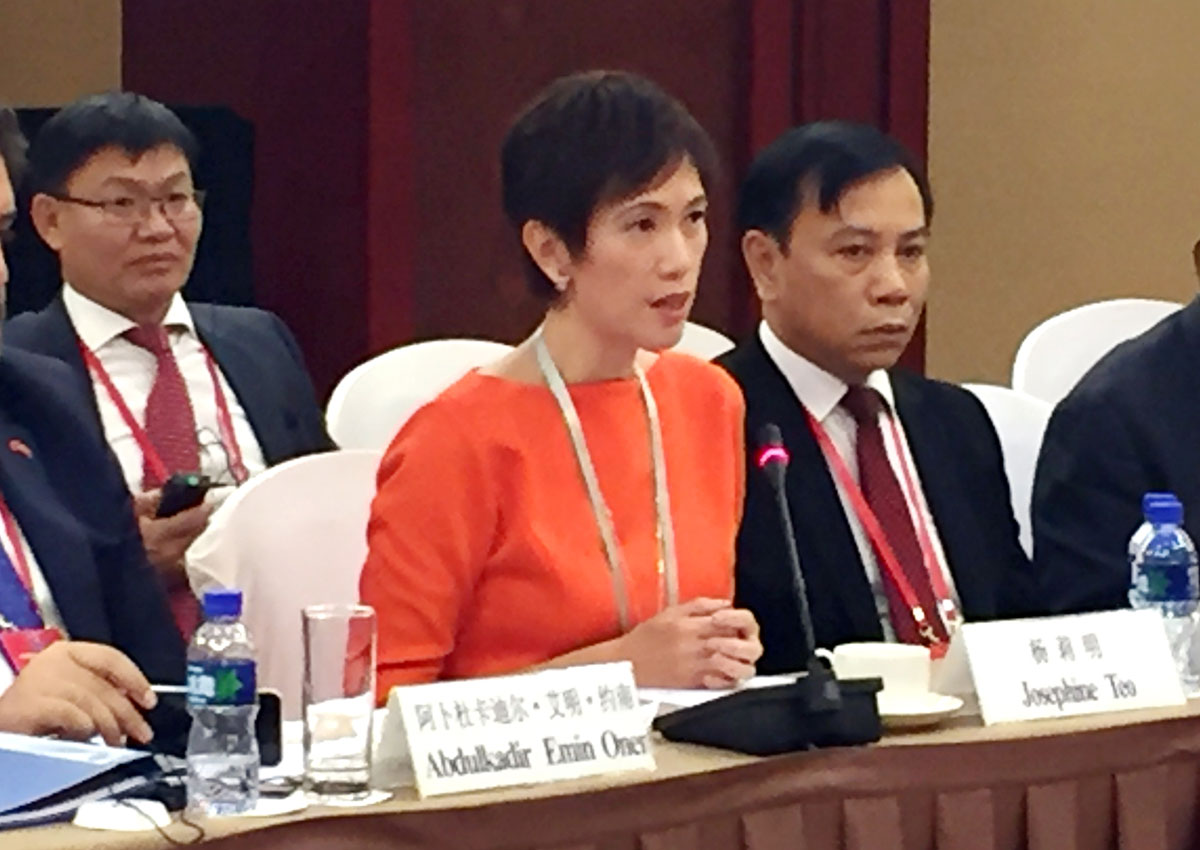 Being politically stable is a pre-requisite for countries to reap benefits from multilateral initiatives like China's revival of two ancient Silk Road trading routes, said Senior Minister of State in the Prime Minister's Office Josephine Teo.
Sharing Singapore's experience with political stability with other Asian political parties, she said: "Political stability that provides a firm foundation for economic development is a pre-condition for meaningful participation in the Silk Road development."
Mrs Teo was speaking at the Asian Political Parties' Special Conference on the Silk Road yesterday.
The event marked the first time the Chinese Communist Party has picked the Silk Road theme at a gathering of political parties, which, analysts said, reflects Beijing's desire to tap more platforms to drive the "One Belt, One Road" initiative.
Proposed by President Xi Jinping in 2013, the plan is aimed at boosting trade and investment along the "Silk Road Economic Belt" linking China to Europe, and the "21st Century Maritime Silk Road" connecting China with South-east Asia, Africa and Europe.
More than 60 political parties and groups from over 30 countries are attending the three-day event in Beijing, which ends today.
Mrs Teo was speaking at a panel discussion with more than 20 other panellists from countries like Sudan, Nepal, Georgia and Japan. They mostly spoke about their nations' support for the One Belt, One Road plan , and their hopes for greater regional integration.
Mrs Teo, who is also Senior Minister of State for Foreign Affairs and Transport, spoke about Singapore's journey to political stability, and also touched on the Sept 11 polls that saw the ruling People's Action Party (PAP) improve its vote share by nearly 10 percentage points from the 2011 polls.
She listed three factors that contributed to the strong electoral support for the PAP: keeping its focus on improving the lives of Singaporeans; insisting on the highest standards of integrity in its leaders; and changing with the times and stepping up engagement efforts with Singaporeans.
But skills required to win elections are not always the same as those needed to exercise good governance, Mrs Teo said.
Besides parliamentary work, PAP MPs also attend to municipal matters, help needy residents and build community relations, she added. "They are like 3-in-1 coffee, simultaneously performing the roles of lawmakers, town councillors and village chiefs," said Mrs Teo.
Politburo Standing Committee member Liu Yunshan similarly touched on governance issues in his opening speech at the conference on Wednesday. He said China's 13th five-year plan (2016-2020), to be finalised later this month, will continue deepening reforms, implementing the rule of law and enforcing strict party discipline.
On party-to-party ties between different nations, he said this is "an important part of countries' ties with each other, and plays a foundational and leading role in fostering better relations".
Experts said building ties with other countries' political parties - both ruling and opposition - has always been a part of Beijing's foreign policy strategy. "As the Silk Road initiative becomes an increasingly important part of China's foreign policy, leaders want to ensure it is now being discussed at both the party and government tracks," said Jinan University professor Zhang Mingliang.
"Another benefit is greater policy continuity because when you engage political parties, and not just governments, it matters less what the election results are," he added.
esthert@sph.com.sg

This article was first published on October 16, 2015.
Get a copy of The Straits Times or go to straitstimes.com for more stories.