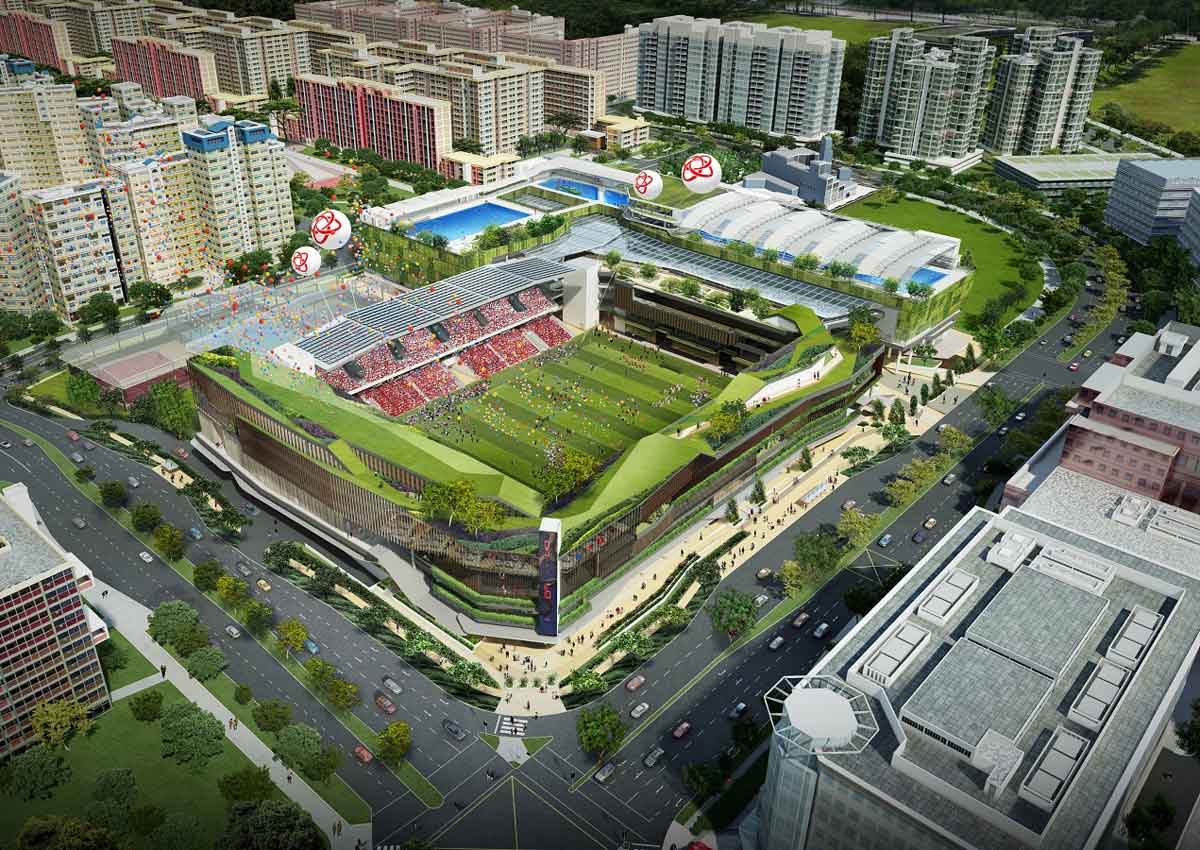 Sports enthusiasts who live in and near Punggol and Sembawang can look forward to new sporting facilities within the next three years.
Preliminary work has begun for a regional sports centre (RSC) in Punggol, to be ready in 2019, and a town sports and recreation centre (TSRC) in Sembawang, expected to be completed the same year or by 2020.
An RSC is a Tier 2 facility under the Government's Sports Facilities Master Plan, second in scale only to the Tier 1 Singapore Sports Hub. A TSRC is a smaller-scale Tier 3 facility, which may include a swimming pool and indoor sports hall, among others.
The recently opened Tampines Town Hub incorporates the first RSC under the master plan. The hub includes a variety of sports facilities, a brand new regional library and countless community club programmes and amenities.
The Government plans to build five such centres in total. No fixed number has been set for the TSRCs to be built.
According to the Ministry of Culture, Community and Youth's plans, the new Punggol facility will be integrated with the nearby waterways and be adjoined to the Safra clubhouse there.
Sport Singapore (SportSG) chief executive Lim Teck Yin said the Sembawang TSRC will be "an interesting proposition".
He told The New Paper in an interview last week: "(The centre) is being steered to be a facility in the park. The Admiralty House on Sembawang Hill and a lot of the surrounding greenery will be preserved.
"We are looking at some of the designs that include a landscaped natural pool, some lap pools that blend into nature, and also an indoor sports hall that blends (into the surroundings)."
ActiveSG, the national movement for sport, will branch out beyond traditional sports to target specific groups of people this year.
At present, there are ActiveSG academies for football, tennis and basketball, as well as a club for athletics.
While the movement, which comes under SportSG, will continue to expand its activities in sports such as floorball and volleyball, it will also reach out to groups such as outdoor enthusiasts and the elderly.
Mr Lim said: "This is aimed at having a bigger catchment of adults because from these activities, you can reach out to more people, and maybe from there, we can introduce them to other sports."
A 2015 report here stated that 55 per cent of Singaporeans and permanent residents (PR) took part in sports at least once a week.
This is comparable to Holland (58 per cent) but higher than the UK (46 per cent), according to a 2013 Eurobarometer study.
According to SportSG, more than half of Singaporeans and PRs engaged in sports at least once a week last year.
Since its launch in 2014, ActiveSG has seen its membership grow to 1.1 million, and the number is expected to rise as SportSG targets 25 academies by 2021.
Mr Lim said: "I think it's myopic when people say that there's no sporting culture in Singapore. Do parents value sport? I would say, increasingly, yes.
"The school curriculum has changed such that students are learning to play more, and the number of students who are actually participating beyond PE (physical education) lessons is higher."
sayheng@sph.com.sg

This article was first published on Jan 3, 2017.
Get The New Paper for more stories.