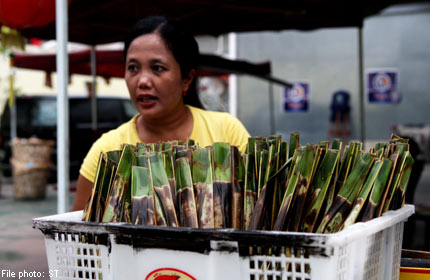 SINGAPORE - Of the 1,000 offenders caught by the National Environment Agency (NEA) last year for illegal hawking, I believe a sizeable number are doing so because of the sheer need to eke out a living for their family ("Illegal hawkers ignore warnings"; last Monday).
These illegal hawkers, usually widows and divorcees, unlike hardcore criminals, are out to make an honest living. Fines and jail terms will only aggravate, and not solve, the problem.
I believe there is a better solution.
Some parks like the Woodlands Waterfront, Bukit Batok Nature Park and Woodlands Town Garden do not have cafes and tea kiosks.
The NEA and National Parks Board should collaborate to build stalls in some of these parks.
The needy hawkers could be licensed and allowed to rent the stalls at a normal price, to sell curry puffs, otah, sandwiches and drinks.
By allowing these so-called illegal hawkers to operate a stall in our public parks, we can create more jobs and, at the same time, provide a much-needed service to park visitors.
Heng Cho Choon, Reader

Get a copy of The Straits Times or go to straitstimes.com for more stories.