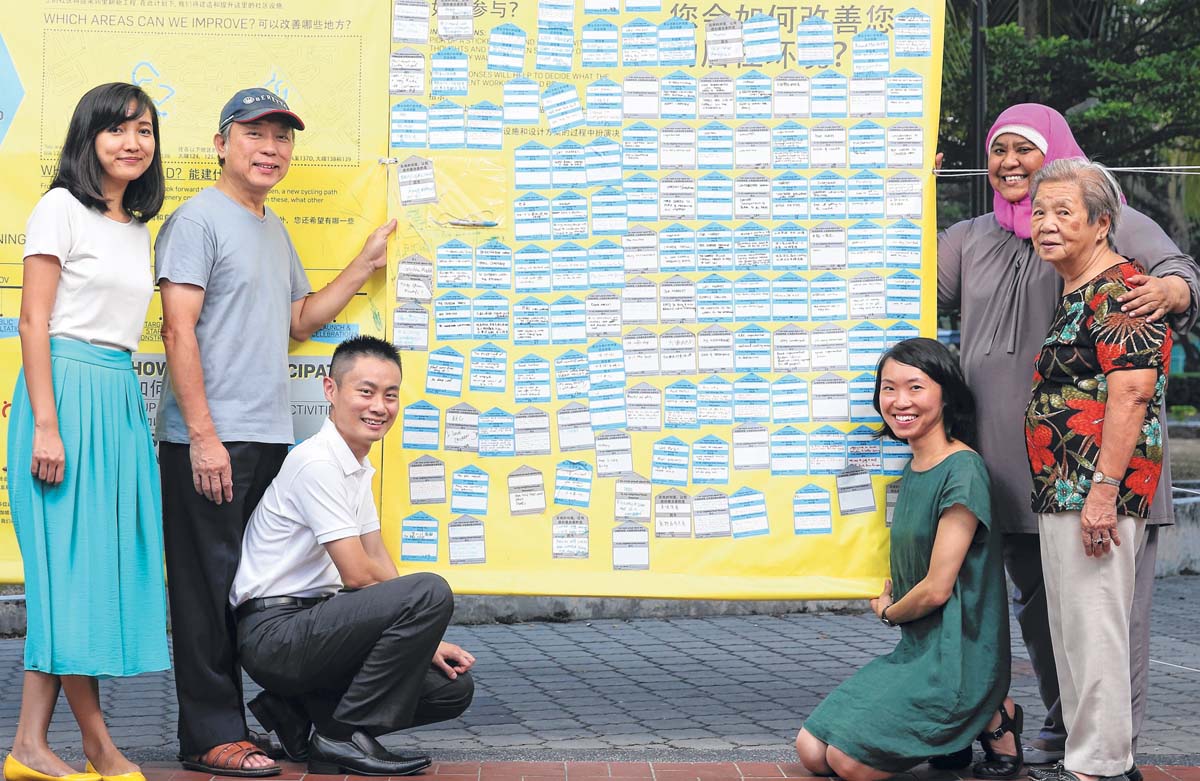 Residents in Tampines Changkat are being asked to speak up and decide how they want their neighbourhood to look.
And their views are not confined to what colour they want their Housing Board blocks painted.
A non-profit organisation, called Participate in Design (P!D), has been working with communities like Tampines Changkat to get residents to take a proactive approach in shaping the area they live in.
This is the first large-scale project it is working on.
Since May, the group, including founders Jan Lim and Mizah Rahman, both 29, have been canvassing the views of residents in the area on the amenities and improvements they would like to see as part of the Neighbourhood Renewal Programme (NRP).
With the help of grassroots volunteers, they have received input from about 250 residents so far.
At a community event in May, residents were asked to write down what they wanted changed and what they wanted to keep.
Their views were displayed on large yellow canvas boards in two common areas of the neighbourhood, near Tampines Street 11.
From there, P!D and grassroots volunteers took to the ground and approached residents in the common areas to get more views.
So far, the top suggestions that have emerged from their conversations are: more play areas for children, more exercise facilities for the elderly and sheltered walkways between housing blocks.
The consultation process is not over. Moving forward, P!D will hold a design workshop on July 12 for residents to refine their ideas.
More public consultations will then be held and construction is expected to start next year. Ms Mizah said: "As designers, we have always wondered if there were ways in which we could create with people - as opposed to for people - so that the design solutions will ultimately be well used and loved by the people they serve."
She said residents understood the constraints when making changes to the environment. "For instance, when we took residents to a void deck, they had a friendly debate on a conflict that could arise if we were to build something in the void deck, versus leaving the space flexible for others to use."
Aircraft maintenance engineer Tan King How, 63, who has been living in the area for about 30 years, welcomed the new approach of getting residents' feedback.
He recalls being asked to vote for the preferred colour of his housing block years ago, but his input was hardly sought for other improvements in the area.
"It's good that people take more initiative and are putting in more effort to get our views. I've seen the ideas on the canvas boards and there are constructive comments."
Ms Irene Ng, MP for the area, said she wanted to engage the residents in a "deeper and more authentic way". She said that in most previous renewal programmes in other neighbourhoods, residents were just asked to select their preferred improvement works from a pre-set list by the town council and to vote for the final design.
"But I believe an NRP should not be a top-down effort or just another upgrading project. We have only about $1.8 million for this NRP and we must make sure the money is used for improvement works that will be meaningful and useful for our residents."

This article was first published on July 2, 2015.
Get a copy of The Straits Times or go to straitstimes.com for more stories.