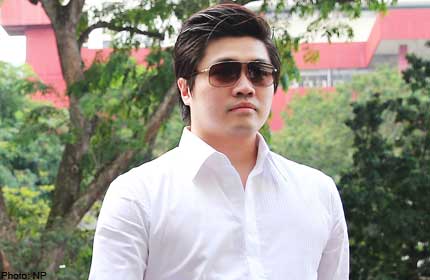 The "gibberish" is testament to how the software used to retrieve text messages may not be 100 per cent accurate, the defence alleged.
Defence lawyer Thong Chee Kun was referring to some incomplete data in a report on extracted phone records.
Mr Thong made this allegation during the sex-for-match-fixing trial involving businessman Eric Ding Si Yang on Monday.
Ding is on trial for allegedly bribing three Lebanese match officials with prostitutes hours before they were due to officiate an Asian Football Confederation match.
Mr Thong zoomed in on the incomplete data in the annex of the report prepared by anti-graft officer Chng Tze Wei, casting doubt on the reliability and accuracy of software SQLite.
This software was used by Mr Chng, a forensic examiner with the computer forensics branch, to extract records from an iPhone seized from Ding, 31.
In the report, two types of records were listed – table records and deleted records. Table records refer to existing messages in the phone, while deleted records refer to those that have been manually deleted by users.
The incomplete data were part of the deleted records, Mr Chng said during cross-examination, and "could be overwritten by other entries".
Accuracy
This prompted Mr Thong to question the accuracy of the records retrieved. The anti-graft officer replied he could not comment on whether the extraction was incomplete or false due to the "other behaviours" of overwritten records.
The defence lawyer then asked about retrieving the deleted records, which "may not be 100 per cent complete and accurate". Mr Chng agreed.
Aside from the iPhone seized from Ding, Mr Chng was also tasked to prepare reports on a Sony Vaio laptop seized from the accused, as well as an HP Pavilion laptop belonging to one of the three Lebanese match officials, Ali Sabbagh, 34.
Earlier in the trial, it was revealed in court that Ding had purportedly sent Mr Sabbagh an e-mail with links to videos of penalties awarded during matches so that he could learn how to fix a match.
But the e-mail could not be found in his laptop. Mr Chng explained that for web-based e-mail accounts, as in the case of Mr Sabbagh, the web browser creates a "temporary cache".
"As time goes by, when the user visits many other sites, that temporary cache might be overwritten.
"Another possibility would be that he is not using this computer to access the web-based e-mail," he said.
This prompted Mr Thong to ask the anti-graft officer during cross-examination if "it could well be that such an e-mail was never sent to him". Mr Chng agreed. As for the laptop seized from Ding,
Mr Chng said it was encrypted.
The trial continues on Tuesday.

Get The New Paper for more stories.