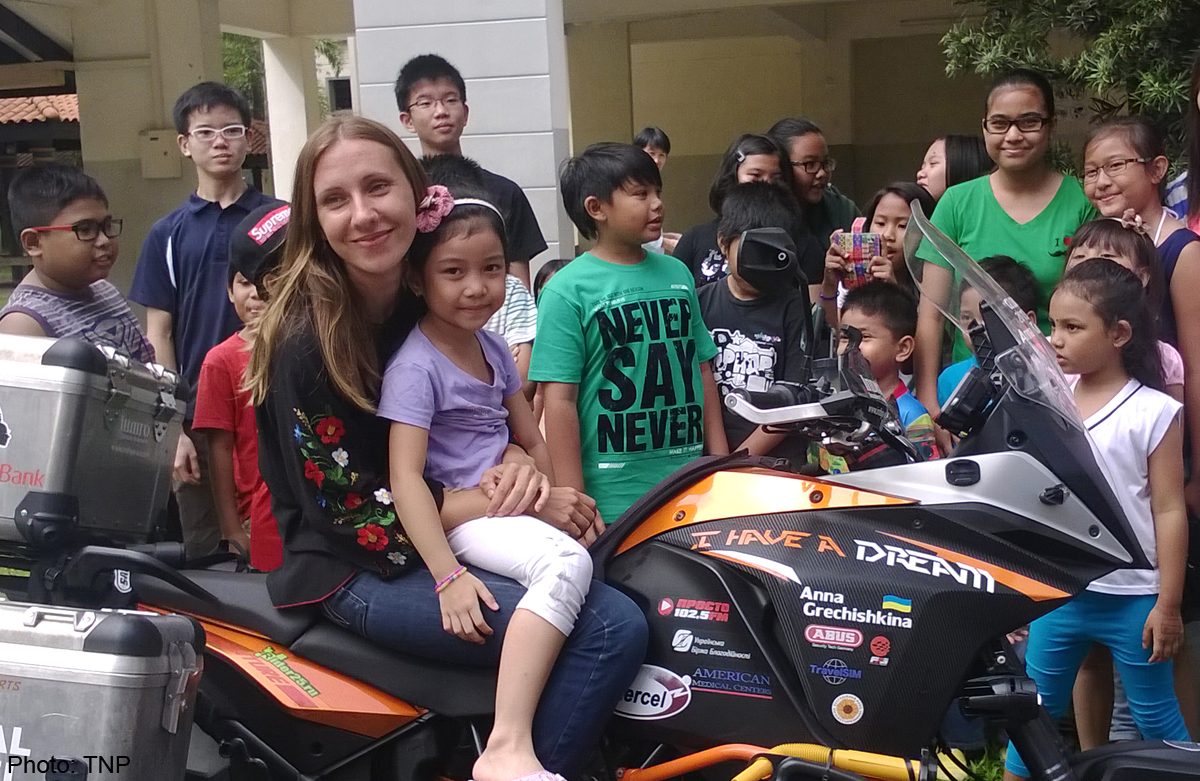 SINGAPORE- After her parents died, she felt her world had ended even though she was in her late 20s.
But Ms Anna Grechishkina, now 33, pulled herself together and was determined to lead a meaningful life to inspire orphans.
The Ukrainian social worker embarked on a two-year journey round the world on a motorbike to meet orphans and underprivileged children to tell them to live their dreams.
She tells them that life, like her journey, has a mix of bumpy and smooth roads.
On Monday, Ms Grechishkina, who heads the social sector of the National Association of Bikers of Ukraine, arrived in Singapore to share her tale, both in life and on the road, with children here.
In 1996, when she was 16, her mother died from breast cancer. Her father died of a heart attack when she was in 29.
She was an only child, she felt lonely and down and she was at a loss as to what to do with her life.
"Her death made me realise I couldn't depend on anyone, because even my parents would not be around forever," she told TNP.
"I was shocked because I was so young, I didn't know sickness would end in death."
When her father died, she became a social worker, visiting orphanages, making friends and bringing gifts for the children.
Two years ago, she got the idea to travel the world. She felt the need to talk to as many children as possible to show them that they could pursue their dreams. Her two-year project is named "I Have a Dream".
TNP accompanied Ms Grechishkina to the Gift of Development at Taman Jurong on Tuesday. The centre invites children spend their time there after school instead of mixing with bad company.
She spoke to 20 children there that day.
Its founder, Mr Shawn Ingkiriwang, said that most of the children are from broken families.
Ms Grechishkina told the children about her journey, showed them her motorbike, a KTM 1190 Adventure model, and reminded them that they have to work towards their dreams.
'HEARTWARMING'
Said Mr Ingkiriwang: "It was heartwarming to have Anna come by to share her dreams, inspiring the children here to pursue theirs."
Ms Grechishkina knows that travelling by herself is dangerous.
She said: "What most don't realise is that while there are bad people in the world, 99.99 per cent are good. Many offered help, like places for me to stay. "Throughout the five months I've been travelling, I have only stayed in hotels maybe two or three nights."
She said that the most important thing you need while travelling is a positive attitude and a smile.
"I always smile and I'm nice to everyone. In return, people are nice to me. Thankfully, nothing bad has happened so far."
Officials from the Ukrainian Embassy, which helped arrange her stay here, were also at the centre on Tuesday. Ukrainian ambassador Palvo Sultansky said: "We are extremely proud of Anna for travelling the world, doing what she is doing and telling people about Ukraine, which many people don't know exists."
Ms Grechishkina said the worst part of her journey was that she was ultimately alone.
She said: "But I remind myself of all the people I've inspired doing this and everyone following the project.
"If I were to fail, it would crush their hopes, and that is what keeps me going."
She leaves for Australia tomorrow. You can follow her journey on www.ihaveadream.com.ua

Get The New Paper for more stories.