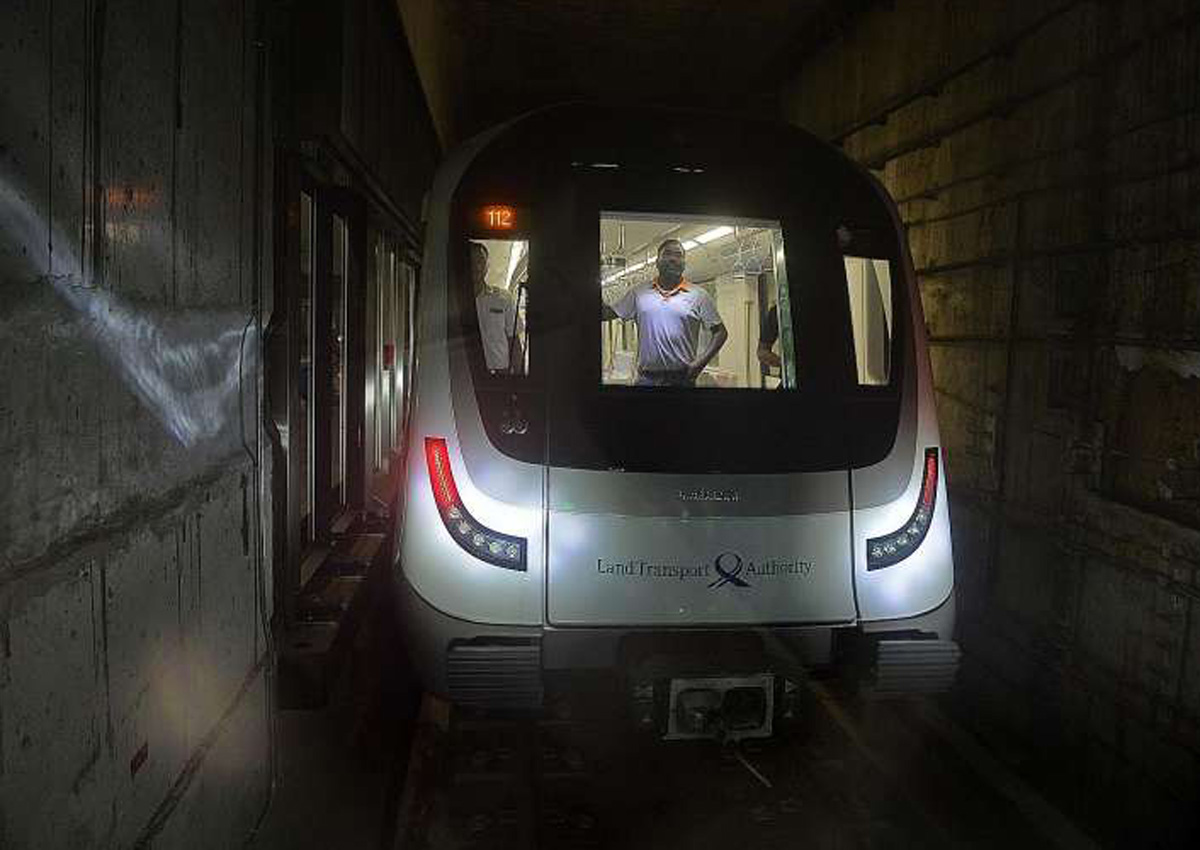 The new Downtown Line 2 will be put through its paces and undergo more than 800 tests - including running trains at peak frequencies and simulations of breakdowns - before it opens to the public on Dec 27.
The test regime, which started six months ago, is one of the most rigorous in preparation for the launch of any train line in Singapore.
Land Transport Authority (LTA) chief executive Chew Men Leong yesterday said: "Compared with the launch of the previous lines, we have put in a more comprehensive and extensive testing regime... for normal and contingency operations."
Besides testing the reliability of trains, tracks and control systems, DTL2 operator SBS Transit is also putting its staff through drills to help them respond to contingencies, such as when platform screen doors fail to open or trains lose power.
Yesterday, the media was able to observe a "coupling" exercise in the tunnel between the Little India and Newton stations.
In this scenario, a rescue train is used to couple with a "stalled" train to push it to the next station, so passengers can disembark.
The 12-station, 16.6km DTL2 will start in Bukit Panjang and pass through the Bukit Timah corridor to Rochor, before connecting to Bugis station, which is part of the six-station Downtown Line 1 (DTL1) that opened two years ago.
Integration testing between DTL2 and DTL1 was completed at the end of October.
SBS Transit-Downtown Line chief executive Simon Lane said there were 30 trains running each hour between the Bukit Panjang (DTL2) and Chinatown (DTL1) stations at the weekend.
"We think the system stability is very good. It is not going to be perfect - there will be some glitches in the initial stages. But it is very well-placed," Mr Lane said.
When DTL1 opened to the public on Dec 22, 2013, there was a 15-minute disruption due to a fault near Bayfront station. Five days later, a power trip disrupted train services for more than an hour.
Preliminary investigations found that the second incident may have been caused by a child passenger activating a detrainment switch, which triggered the power cut.
Mr Chew said the LTA and SBS Transit are "well geared" for the launch later this month. SBS
Transit said it will deploy more staff at the DTL stations during the initial weeks of operations to guide commuters.
Mr Chew said while efforts are being made to keep teething issues to a minimum, he asked for the public's understanding should there be any problems. "One scenario we cannot simulate is to run the trains fully loaded in a live environment... So, in the coming months, we will need some stabilisation of the train systems, and there will be some teething challenges."
Commuters can preview the DTL2 as part of an open house, from 10am to 6pm, on Saturday.

This article was first published on Dec 3, 2015.
Get a copy of The Straits Times or go to straitstimes.com for more stories.