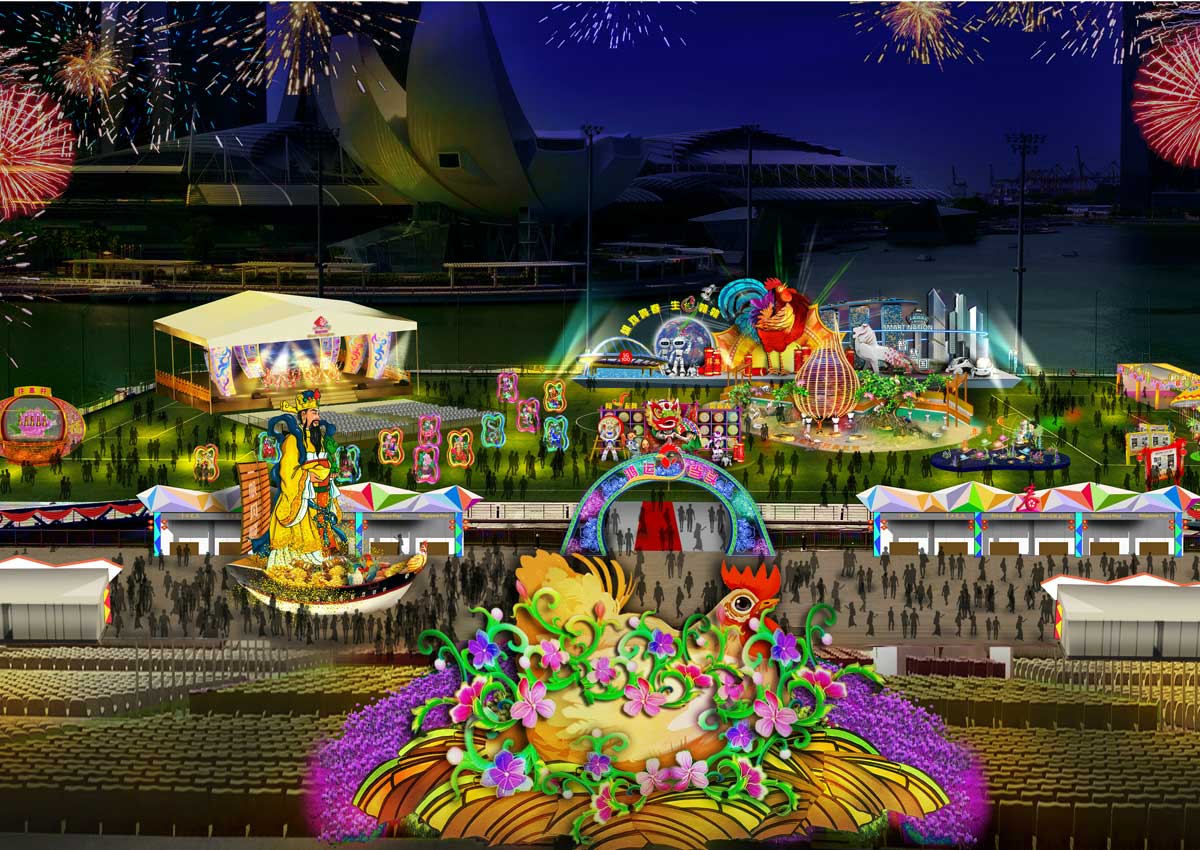 SINGAPORE - The annual River Hongbao festivities will run from Jan 26 to Feb 4 this year at the Floating Platform @ Marina Bay.
Visitors can expect new displays with a modern twist during the 10-day event, as well as the the quintessential God of Fortune and the 12 animals of the Chinese Zodiac.
An interactive mobile application will also be developed for users to send Chinese New Year wishes, which will appear as writings on sky lanterns on their mobile screens.
Virtual reality glasses will also be available in limited quantities for visitors to experience a realistic 360-degree view of the flying lanterns.
Admission is free, and the event will be held from 2pm to 11pm daily.
There will also be rides and game booths to look forward to, as well as handicraft and food stalls. Not to mention fireworks displays on all the 10 days of the event.
This year's River Hongbao will feature more local elements and programmes, including a recreation of Sungei Buloh Wetland Reserve right on the floating platform.
Local artistes will also take centre-stage in nightly entertainment shows, together with performances from overseas troupes.
Local singer Nathan Hartono will kickstart the festive extravaganza on Jan 26 with a live band performance.
Another highlight will be performances by local getai artistes Marcus Chin, Wang Lei and Hao Hao on Feb 1 and 2.
Audiences will get to enjoy performances from overseas troupes as well, such as the highly acclaimed Chongqing Song and Dance Troupe, Chongqing Acrobatic Art Troupe and Hwa Kang Dance Troupe from Taiwan's Chinese Culture University from Jan 26 to 30.
There will also be an exhibition called "The More We Get Together: Major Festivals in Singapore", where unique festive preparations, traditional customs and foods of Chinese New Year, Hari Raya Puasa, Deepavali and Christmas, as well as their common themes are featured.
River Hongbao 2017 is jointly organised by the Singapore Federation of Chinese Clan Associations, Singapore Press Holdings, Singapore Chinese Chamber of Commerce and Industry, Singapore Tourism Board and the People's Association.