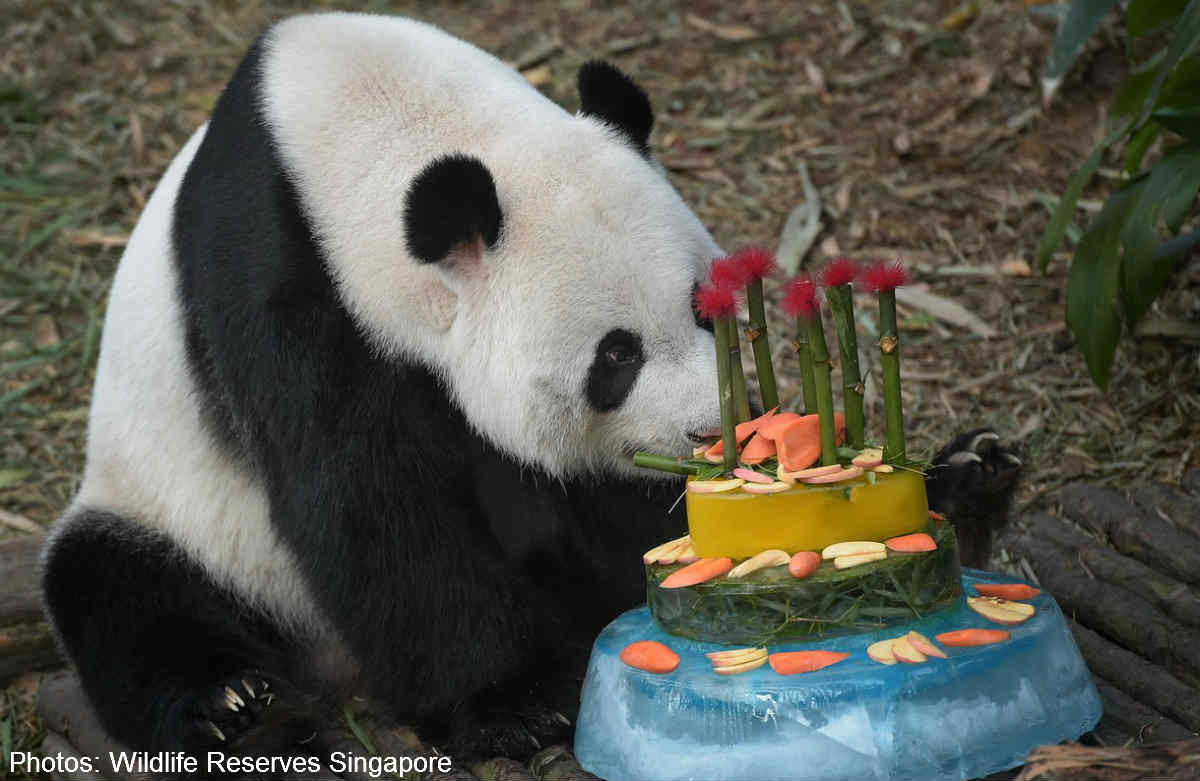 SINGAPORE - River Safari's pandas Kai Kai and Ji Jia celebrated their birthdays and second anniversary in Singapore with a panda party attended by 150 guests.
Male panda Kai Kai turns seven on September 14 while his female partner Jia Jia turned six on September 3. They were treated to birthday 'cakes' specially designed by students of ITE College West.
Over 500 conservation pledges were collected ahead of Panda Party 2014 held on Friday at the River Safari.
Guests took part in a panda lantern parade in a symbolic effort to light the way for the future of the endangered species.
Guest-of-Honour Ms Sim Ann, Minister of State, Ministry of Communications and Information & Ministry of Education, was among the birthday party guests who were given the rare opportunity of touring River Safari at night as they shone lanterns of hope for the future of giant pandas, led by a blazing Chinese dragon dance that trailed across the park.
The pair of pandas arrived in Singapore on September 6 in 2012.
Wildlife Reserves Singapore Chairman Ms Claire Chiang said: "In the past two years Kai Kai and Jia Jia have brought much joy to visitors at River Safari and as we celebrate their birthdays, we hope to leverage their popularity to initiate education programmes to highlight the threats that pandas face and encourage individuals to take actions to ensure a brighter future for this iconic animal."
Mr S R Nathan, Chairman of CapitaLand Hope Foundation also said that CapitaLand Hope Foundation (CHF) will be taking part in the celebrations of Kai Kai and Jia Jia's birthdays, as well as their second anniversary in Singapore.
"The arrival of Kai Kai and Jia Jia has created many opportunities for CHF to work in partnership with WRS to develop educational programmes and materials to engage our children beneficiaries in Singapore and to promote wildlife conservation, so that the young ones too, can learn to contribute towards biodiversity," he added.
The birthday bash also saw the launch of a nursery rhyme book for pre-school children that tells the adventures of the two pandas in Singapore. Written by five teachers, the Chinese language book is geared at helping children learn the language in a fun and engaging manner.
The birthday bash kick-starts festivities happening during Panda Party week, which runs from Septemver 6 to 14.
Visitors to River Safari can expect a line-up of activities from free guided tours at the Giant Panda Forest to interactive show & tell sessions where they will get the opportunity to feel a panda skull replica and get a whiff of panda poop.
Visitors can also plant pledges to help 'grow' a lush bamboo forest for the bears. Kids can enjoy panda arts and crafts, from face painting to clay modelling activities.
ljessica@sph.com.sg