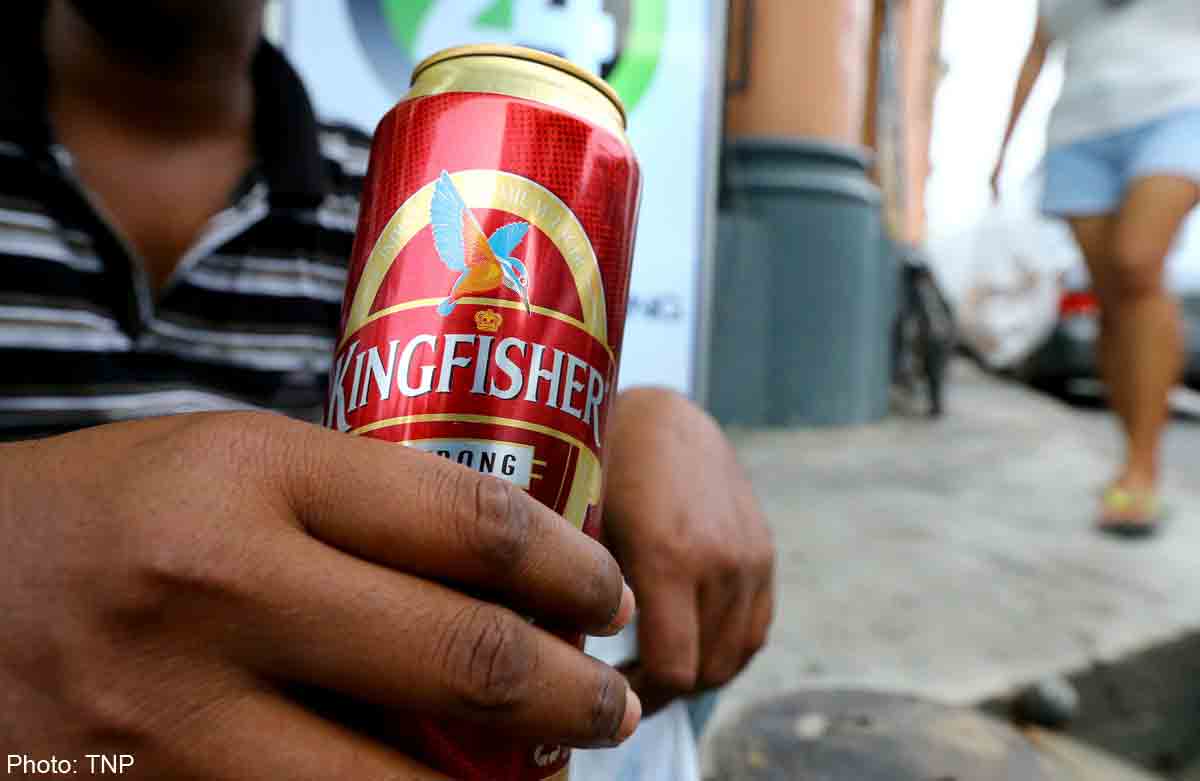 SINGAPORE - Just four lanes of a one-way road separates a booze-free zone from a booze-laden shop bracing itself for big bucks.
Shops on the side of popular dim sum shop, Swee Choon Tim Sum, on Jalan Besar will have to remain completely dry, while across the road, where the Berseh Food Centre is, it is business as usual.
Next to the food centre, in the basement of New World Centre, is Sheng Siong Supermarket.
When The New Paper visited the supermarket on Friday, its shelves were fully stocked with a variety of beers like Kingfisher and Knockout, both of which are popular with workers from South Asia.
A Sheng Siong cashier-manager who spoke to TNP said extra stock of beer had been brought in. She could not specify the amount because she is not involved in the ordering of stock. The cashier cannot be named because she is not authorised to speak to the media.
Booze-Free zone
As of 6am today, Little India and the surrounding area is an alcohol-free zone, with bans on the sale and consumption of liquor.
A Sheng Siong spokesman told TNP that the supermarket's main business is still groceries and daily necessities. It is open round the clock. "As we are not an alcohol shop, we only carry selected beer products and very little hard liquor," she said. Drink store owners at the Berseh Food Centre were unconcerned about a possible spillover in demand.
Madam Mok Yaw Heng, who owns a drinks store selling beer, said South Asian workers hardly visit that food centre.
"We mostly sell Chinese food, so if the Indian workers want to eat and drink, they usually go over there," she said, pointing to the row of outlets near Rowell Road and Desker Road.
She added that when she was notified on Tuesday about the alcohol ban, she and other stallholders felt it was unfair because their customers are mostly local.
"Thank goodness on Wednesday they told us no need (to stop selling alcohol over the weekend), so on Sunday we'll see."
On Serangoon Road, a mini-mart that falls just outside the restricted zone is cautiously optimistic about business this weekend.
The shop owner, 33, who wanted to be known only as Mr Karthik, said foreign workers buy about six cartons (144 bottles at 630ml each) of beer over the weekend.
"We haven't made any special arrangements (for the weekend), like stocking up on beer, because I don't foresee an increase in business. It is mostly loyal customers who patronise our stores," he said.

Get The New Paper for more stories.