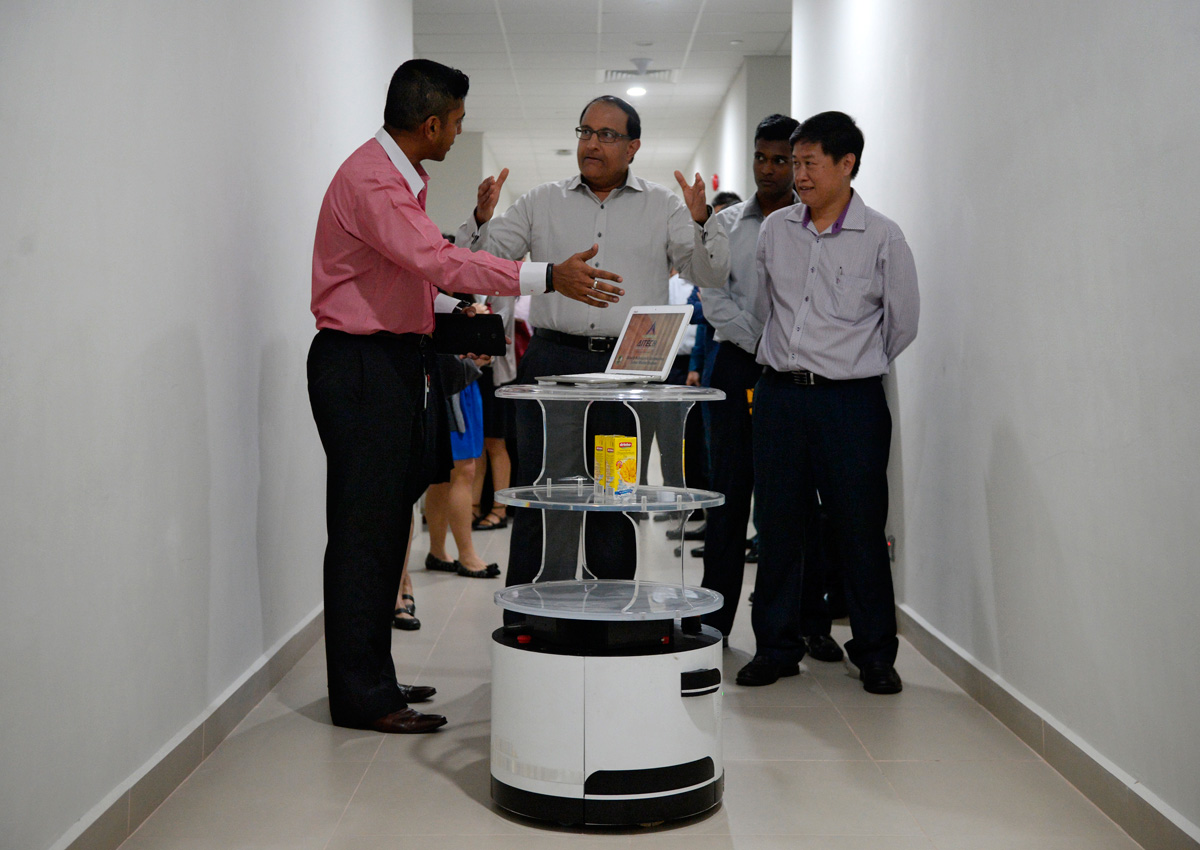 Robotics solutions - which received a big boost in Budget 2016 - may help transform Singapore's small and medium-sized enterprises (SMEs) as the economy restructures, but the process will require more than just the technology.
The adoption of robotics still needs cultivation among SMEs, while some workers will need reskilling to move up the value chain in a more automated economy, Minister for Trade and Industry (Industry) S. Iswaran said yesterday.
"Robotics is interesting as it can be applied in different industries... We want to see how some of these solutions can be incorporated into our existing businesses, partly as a solution for productivity, partly also to allow them to pursue new types of opportunities," he said when visiting Aitech Robotics and Automation in JTC's CleanTech Park.
"What we want is to find ways for SMEs to be able to adopt the technology. But SME owners have to first understand what is the potential, and then for them to cross the Rubicon and try it."
Alongside abundant government grants, one way to encourage wider adoption of robotics technology is to have a leasing model, where SMEs can acquire the technology at a lower cost, Mr Iswaran suggested.
His visit to Aitech came days after Budget 2016 included a $450 million expansion to the National Robotics Programme.
The initiative underpins the Government's push to make automation the centrepiece of Singapore's economic transformation.
This means boom times may lie ahead for robotics service providers such as Aitech.
Established in 2013, the company builds automated or guided robots to support business processes at companies in industries such as semiconductor manufacturing, food and beverage, and logistics services.
But the use of robots alone will not solve the issues of uneven pro- ductivity growth, Mr Iswaran said.
"There is no silver bullet to productivity growth - you need all aspects to come together. Business processes still have to be optimised, and skill sets need to be enhanced, and then there is the use of technology. You need all these on a consistent basis to grow productivity."
And as robotics solutions become more prevalent, some parts of Singapore's workforce will inevitably be hit as robots take over certain jobs.
That is why reskilling and retraining will remain a key part of the Government's restructuring efforts, so as to enable individuals to take up jobs with higher value-add.
"Even as certain types of jobs may be diminished, there will be new kinds of jobs created. What we have to do at the system level is to find ways for Singaporeans to pick up new skills and adapt to new opportunities," Mr Iswaran said.
whwong@sph.com.sg

This article was first published on March 30, 2016.
Get a copy of The Straits Times or go to straitstimes.com for more stories.