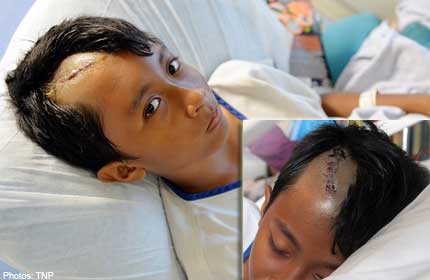 Over the past few weeks, killer litter has been raining down from Block 611 in Woodlands Ring Road.
The block is next to Woodlands Ring Primary School, a playground and a badminton court, and it seems the litter is aimed at driving away noisy youngsters from the area.
It was probably a matter of time before someone would get hurt.
The unfortunate person turned out to be a 12-year-old boy who was hit by a rock thrown from a high floor on Tuesday.
The rock, about the size of a man's fist, cracked the skull of Khairul Azhar, a Primary 6 pupil in the school.
The incident happened at about 3pm at the badminton court where Khairul was chatting with his friends near a group of skateboarding teenagers.
Then he heard a loud sound.
When he turned around, he saw that a brick had landed very close to where he was sitting.
"When I saw the brick, we all started running because we were afraid of getting hit," Khairul told The New Paper from his hospital bed at KK Women's and Children's Hospital (KKH) on Thursday.
"But before I could reach the nearby shelter, I felt a sharp pain on my head."
He collapsed to the ground crying as blood flowed from his head.
"I thought I was going to die," he said. A resident of Block 611, who wanted to be known only as Madam Shikin, was walking by with her two children when she saw Khairul crying in pain while covered in blood.
The 33-year-old housewife said: "It looked like the bleeding was very severe. His head was completely covered in blood.
"I told him I would call for an ambulance."
Madam Shikin was shocked by the incident, saying: "My two kids are studying in the same school.
What if it was my kids who had got hit?"
Residents told TNP that items like soiled diapers, dirty water, cigarette butts and even a bicycle had been thrown down the block.
Meanwhile, two of Khairul's friends ran back to the school to alert a teacher while two other friends went to his flat in the block to inform his family.
Khairul said the school's operations manager took him to the school and administered first aid in the general office until an ambulance arrived.
The ambulance, which arrived at 3.40pm, took him to KKH for treatment.
Khairul's 17-year-old brother had phoned their father, Mr Amran Mael, at about 3.15pm to tell him what happened.
The 46-year-old graphics designer said: "My second son was panicking as he tried to explain to me what had happened to his brother.
"I told him to speak slowly and to take care of his brother first as I was still busy with work."
He rushed to the hospital as soon as he realised that Khairul, the youngest of his three sons, was badly hurt.
"Khairul was conscious when he reached the hospital and the only apparent injury was a 2cm cut on the right side of his head," Mr Amran said.
"But an X-ray scan showed that his skull was fractured. The impact of the rock had caused a deep dent on his skull."
OPERATION
Fearing possible damage to his brain, doctors operated on Khairul at 9.10pm.
They had to use titanium surgical screws to elevate the skull away from the brain.
The screws will remain in Khairul's skull for life and he could experience fits in the future as a side effect.
Mr Amran made a police report that night after Khairul's successful operation.
Khairul is now in stable condition.
Mr Amran hopes the culprit gets caught so that such an incident does not happen again.
"There was no reason for this to happen," the distraught father said.
"My son was only hanging out with his friends.
What if the rock had been bigger or if it had been thrown from an even higher floor? It could have been fatal."
Police investigations are ongoing.
Those convicted of committing a rash act, such as throwing killer litter, can be jailed for up to six months or fined up to $2,500, or both.

Noisy pupils targeted
Screaming pupils from a nearby school, skateboarders and teenagers often use the badminton court near the school as their playground.
The new paper understands that residents of nearby block 611 have complained to Woodlands Ring primary school about the noise.
Residents said they have seen its discipline master making occasional patrols around the area to ask noisy pupils to lower their volume.
Of late, litter has been thrown from the block in the direction of the badminton court, and tnp understands that the pupils and teenagers are often the target of the litter.
Residents said the litter included soiled diapers, cigarette butts and dirty water, but they believed tuesday was the first time that someone has got hurt.
The incident has made some of them more wary when walking below the block.
Madam Chan, a 50-yearold resident of block 611 for 10 years, worries that she and her mother-in-law, who is 70, might become victims of killer litter.
The housewife said: "it might get noisy because of the kids but nobody should throw rocks like that.
Dangerous
"This is so dangerous. What if my mother-in-law was passing by and a rock hits her? it is so irresponsible.
"Thankfully, there is a sheltered walkway all the way from the bus stop to the block."
Another resident, taxi driver Akbar Ali, 48, said killer litter is a common sight at the bottom of the block.
He recalled that a bicycle was thrown down a few months ago.
"The things people throw down can get very scary, so all we can do is try to avoid walking below the block," he said.
Past killer incidents
APRIL 2013
BLOCK 222, serangoon avenue 4
Bricks were thrown from an HDB block to a nearby open-air car park, damaging at least three vehicles. Killer litter has been a problem in the block, with residents reporting fish tails, tea bags, balls of toilet paper and tissue being thrown.
AUGUST 2012
BLOCK 465, ang mo Kio avenue 10
Police arrested a 39-year old man after he threw a mahjong table in a fit of rage from the common corridor outside his ninth storey flat. the incident was sparked by an argument between the man and his cousin.
JUNE 2012
Clementi avenue 2
Police arrested a 19-year-old boy after he threw a flower pot from an HDB block and damaged a covered walkway. he was believed to have been involved in at least four other cases of mischief, also by throwing down flower pots placed outside HDB units around Clementi avenue 2.

Get The New Paper for more stories.