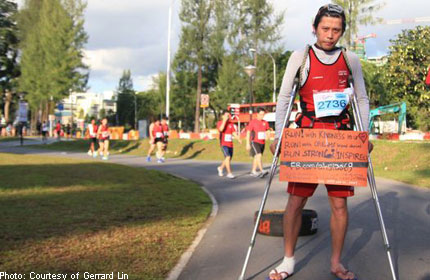 SINGAPORE - He was crazy enough to complete the 10km Jurong Lake run on a pair of crutches, while pulling a 10kg tyre behind him.
Photos of freelance martial arts instructor Gerrard Lin, 30, were posted on citizen journalism portal Stomp and many wondered who this "crazy" person was.
In fact, "Ah Siao" (siao is Hokkien for crazy) is Mr Lin's alter ego, whose trademark is running with a tyre behind him, strapped to his body with a rope.
Mr Lin, who had a hairline fracture on his right foot at the time, was taking part in the July 7 run against his doctor's advice.
He said: "My doctor told me that I shouldn't even think of running, but I felt that I couldn't back out at the last minute.
"It was very tiring. But I was encouraged by the many people who were taking photos, and volunteers who saluted me as I ran."
His passion for running stems from his desire to help leukaemia patients through the Bone Marrow Donor Programme (BMDP), which helps leukaemia patients find a bone marrow match.
He said: "I feel compelled to help these patients whose odds of survival are so low.
"I also feel that many have misconceptions of what a bone marrow transplant entails, and I would like to raise awareness about this."
During runs, he wears a sign that has a link to his Facebook page, where he posts information about his cause, updates on futures runs as well as a link where those interested can donate.
In this way, he helps to raise both funds and awareness for the BMDP.
While running a marathon is no easy feat, Mr Lin decided to pull a tyre at his first marathon, the Standard Chartered Marathon in December last year, training for only eight weeks before that.
He said: "People may think that I'm 'sibei hao lian' (Hokkien for very arrogant) for trying such a thing in my first marathon.
"But I think what I am doing is nothing compared to what leukaemia patients go through."
The "Ah Siao" character came about when he was discussing how he could help out with the BMDP and realised that he needed to do something to differentiate himself.
Running regularly
Mr Lin, who did not run regularly before August last year, now runs up to three times a day, chalking up about 130km each week.
Since his first marathon last year, he has taken part in other runs including the 2XU run and the Sundown Marathon.
Mr Lin's father is a retired warehouse supervisor and his mother, a part-time cleaner.
While they live together in a three-room Tiong Bahru flat, he described his family as a "traditional Chinese family who don't talk much to each other."
While he is planning to do without the tyre at this year's Standard Chartered Marathon, he has another goal in mind - to run a sub-three hour marathon, a mean feat for any marathon runner.
He said: "It may sound like an impossible task but what is important is that I try.
I hope that when leukaemia patients see me, they won't give up hope either."
What qualities do you have that make you Singaporean?
We expect things to be done in an efficient way.
Once, I fell sick overseas and had to wait a long time to see the doctor. I realised that we take for granted how things are so efficient in Singapore.
How would you describe Singapore to a stranger?
When I have visitors over, I like to take them to Geylang. I think that the "dirtiest" part of any city is also its soul.
What are the little quirks you see in Singapore every day?
Our country is so small and people live so close together, but I sometimes feel that we can be more open and less suspicious of each other.
What food do you miss most when you're overseas?
Bak chor mee.
What are your favourite Singlish phrases or words?
Siao eh (Hokkien for "are you crazy?")
If you feel you are uniquely Singaporean or you think you know someone who is, e-mail tnp@sph.com.sg and share your story with us. The best five stories this month will each win a pair of tickets to the National Day Parade. The next five best entries will each receive a pair of tickets to the National Day Parade Preview. The winning entries will also be featured on the NDP website.

Get The New Paper for more stories.